Brands of the Year: Great Scotts
Even before they became known as the Property Brothers, Drew and Jonathan Scott were carefully crafting their brand, and now they're using their fame to build a mini-media empire that includes a production company, a new radio show and an upcoming product line.
Drew and Jonathan Scott are on the phone from Atlanta, where they are currently filming episodes of their hit home-reno show Property Brothers. They're telling stories about the show's Latin American debut.
Jonathan (pictured left) explains that in Spain and Mexico, they use the same guy to dub the voices of both twins in Spanish. "He'll do it in the same breath; he'll deliver a line from me and then a line from Drew," he says.
For a promo spot, instead of dubbing, the brothers themselves had to learn several pages of dialogue in Spanish and Portuguese.
"They had me wearing a tight, white T-shirt and all the dialogue was about how a real man is good with his hands," Drew explains. "It shows me holding a sledgehammer and then it shows me turning around with a puppy in my hands and I look in the camera and say in a deep voice, 'Hola.'"
The brothers like to laugh at the silliness of these situations, but these types of stories are indicative of some serious success.
Property Brothers, in which the brothers find and renovate a fixer-upper for a family in each episode, debuted in 2011 and was originally produced by Cineflix Productions for Corus Entertainment station W Network in Canada. Now, seasons one and two have been sold to 17 territories internationally, while seasons one to four have been sold to 20. It has become a runaway hit, picked up by Scripps in the U.S., which now co-broadcasts the show on HGTV. The success of the program and the desire for more content featuring the Scotts has resulted in two spinoff series – Buying and Selling with the Property Brothers and the competition-style show Brother vs. Brother. The latter was the highest-rated program on W Network with women 25 to 54 (its core target) across all nights this past summer.
The original Property Brothers show could easily have gone in a very different direction. The concept was created before any hosts were selected and was originally planned for a male and female team. But when Cineflix's talent department came across the brothers,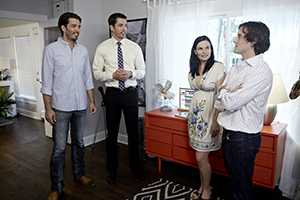 who happened to have the necessary qualifications of being a realtor and a contractor, they knew they had something unique.
"If you look at the [home-reno show] marketplace, there aren't really any other sibling teams out there, so immediately they're different," says Gerard Barry, executive producer at Cineflix. "They're not just pretty faces, they're practical people too. Because they're brothers, they're not precious, they knock the corners off each other. They have a relationship that anyone with siblings can see and understand. I think it makes them more rounded and real."
Their personalities make them relatable, but their extensive experience in the worlds of business, real estate and entertainment help to make them a brand.
"Jonathan and Drew really get it," says Vibika Bianchi, VP of original programming, women's and family TV at Corus. "They understand what it takes to build a following, and how important ratings are to the broadcaster, how important sales are. [The brothers, the producers and the broadcaster] work very well together and we make sure that we're looking out for everyone's best interests, so everyone should win. Jonathan and Drew completely understand that, and I think that's what's gotten them even further than, let's say, a different pair."
Perhaps the Vancouver-born brothers "get it" more than others because they've been building their brand since age seven, when they decided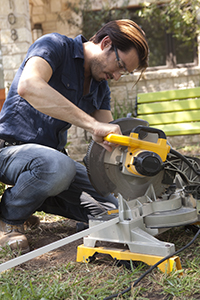 (without parental influence) to start their own craft company (called JAM Enterprises, for Jonathan, Andrew and Mom). They eventually earned thousands of dollars selling home-made crocheted clothes hangers to a neighbour who owned a chain of American paraphernalia stores in Japan.
Having also dabbled in acting since childhood, the brothers didn't want to become struggling actors, Jonathan says, so they decided to invest in real estate after high school and built a successful business. At the same time, they stayed on the radar of production companies that were exploring them as potential hosts.
Today, they're based in Las Vegas and still invest in real estate, but they also have their own production company, Scott Brothers Entertainment. They employ a staff of eight at their offices, plus a satellite team of about 40 people (such as PR and accounting). This past year, they've ramped up their production company and hired an EVP of development and production, Katie Ruttan Daigle, who has experience in factual entertainment with HGTV in Canada and the U.S., as well as with Cineflix. The brothers are developing several unscripted projects, plus a scripted romantic comedy that Drew (who is also a director) wrote himself.
The brothers also recognize the opportunities in digital, producing more content through their company, including a recently launched Big Brother-style spoof for Funny or Die that features a slew of home-reno show celebs like Candice Olson and Ty Pennington.
The brothers' adeptness with digital and social media (they're avid tweeters from their accounts @MrDrewScott and @MrSilverScott), plus an audience desire to learn more about them, have been a benefit to Corus' digital marketing strategy.
The brothers have been able to take content ideas and run with them, says Shelley Findlay, VP marketing, women's specialty TV, Corus. For instance, the network made videos for social media called "BroCam" in which they give viewers a behind-the-scenes look at the show, but also a glimpse into the brothers' lives. And they've hosted Twitter and Facebook chats, as well as Google Hangouts.
"The brothers know how to connect with audiences, so in all of our communications we try to really give viewers a glimpse into who they are as people, not just as television personalities," Findlay says.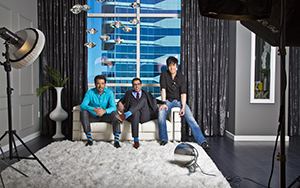 Fans will get a further look into who the brothers are with the launch of their recently-announced radio show that will broadcast across the Corus radio network. Aptly called Off Topic, it will explore areas including travel, food and romance ("or in Jonathan's case, lack thereof romance," Drew deadpans). It will also involve their older brother, J.D., who is part of Scott Brothers Entertainment and has stage and improv experience.
It's a wonder that the brothers have time to host a radio show given their jam-packed schedules.
"The average host on the network makes about 13 hours a year of programming, some of them do 26 episodes a year," says Jonathan. "Drew and I produce over 65 hours of original content every year for the networks. It's a lot. My mom won't let me get an ego about it, but it's impressive to say that the audience is relating to what we're putting out there."
And the brothers continue to expand their brand. They host events (such as the recent Producers Ball during TIFF), they travel the world giving lectures, they're writing their first book and they even have a line of products coming out in the near future (they're staying mum on the details for now). There is even another show in the works that will focus on their own home in Las Vegas. Plus, they're global ambassadors for World Vision.
When asked if there's anything else on the horizon, Jonathan quickly retorts, "World domination."
At the end of the phone call, the brothers reflect on what gives them their drive, and both credit their father for encouraging them to be ambitious: "He said, 'those who say it can't be done shouldn't get in the way of those who are doing it,'" Jonathan recalls. "And it's true. When we were building our real estate company and we were two scrawny guys with lofty goals, a lot of people said, 'don't be ridiculous, get a regular job, sit in an office and do a nine-to-five.' And it just wasn't for us. We wanted to make sure we were aiming high but also achieving it."