Carnivore Club brings the meat
Targeting urban men, the company will ship cured meats from charcuterie artisans to subscribers in Canada and the U.S.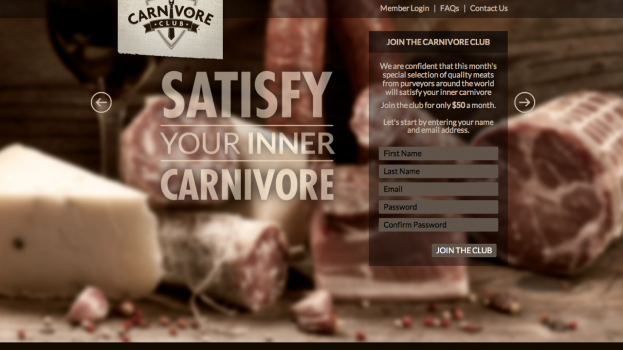 Long gone are the days when men hunted wild animals to secure their next meal. Now, they can have cured meats come to them, delivered by a startup company offering to bring the bacon (and other charcuterie) to their homes.
Carnivore Club co-founders Tim Ray, a former business development manager at Maple Leaf Foods, and Matthew Cloutier, who started social site Foodea.com, are set to launch the site for their Toronto-based, cured meats-of-the-month subscription service on Oct. 21 and send the first shipment to around 150 subscribers in Canada and the U.S.
The program provides a platform for local artisan charcuterie shops to reach a target demo of men between the ages of 30 and 55, encompassing both males from the baby boomer generation with an interest in luxury products and the young, high-income urban male. So far, around 250 people have signed up through the company's Indiegogo campaign page, with 70% being from the U.S., and the company has received $21,000 in pre-order sales. Ray says the company sees a big opportunity for an e-commerce service to tap into a demo that is not that engaged in buying things online.
"There is a huge opportunity for growth for companies that can engage that male audience, especially with niche plays that appeal to the interests guys inherently have and offer a product they can't otherwise access," he says.
Cured meats that can't be bought anywhere else should appeal to those men who like to indulge in things like fine whisky and cigars, Ray adds.
By the end of November, Ray says the company hopes to open an e-commerce portal where consumers can have access to all of the cured meat artisans that partner with Carnivore Club.
The new subscription-service company is part of a growing trend, particularly south of the border, that Bensimon Byrne analyst Max Valiquette pointed out to shopper marketers in 2012. These services, which bypass the traditional retail chain to deliver new products right to consumer, will increasingly be the way consumers discover new things, and if they like them, it will cut into retailers' share of basket.
Carnivore Club will service customers in Canada and the U.S., shipping boxes of cured meats and other foods from charcuterie shops via Canada Post. Fifteen suppliers have come on board so far, including Cheese Boutique near High Park in Toronto and Crested Duck Charcuterie in Pittsburgh.
The boxes, which will be filled with four to six cured meats ranging from duck breast prosciutto to bison jerky, will retail for $50 a month. Consumers have the option to sign up for the monthly delivery or a one-time drop-off.
The launch is supported by a slightly crass video (done in partnership with Toronto-based video production company Ovu), PR targeting bloggers and food critics, and social media outreach. It will also be supported by Google adwords and Facebook ads. Ray says the company plans to release an animated video in early November to drive Christmas sales.
The company is backed by an advisory board of top-tier e-commerce professionals, including Buytopia founder Michelle Romanow, WagJag founder Jeremy Zuker and Elliott Chun, a PR and marketing communications specialist who is the communications manager for Future Shop.
Ray says Carnivore Club is looking to partner with local businesses marketing to a similar target, such as fashion magazines, golf stores and any enterprise that targets the urban male.