Pampers pairs with Walmart for an integrated campaign
The P&G brand has developed an exclusive program with the retailer, targeting moms digitally for a diaper delivery by a stork-mobile.
To promote its recently unveiled product changes (which keeps babies dryer than previous diapers), new packaging and expanded lines, Pampers and Walmart teamed up to create a specific-to-the-retailer multi-channel campaign.
The brands launched the #PampersStork program, led by PR agency Citizen Optimum, which delivered 250 baby bundles, including the updated diapers and other products new moms may need like Ivory Snow detergent, across Canada.
Pampers rewarded moms who interacted with the brand using the hashtag #PampersStork with live drops across the GTA from a Fiat car wrapped like a stork. Those in the rest of Canada will receive their bundles in the mail over the coming weeks. The "Pampers Stork" also made stops at Walmarts in the Toronto area, with people encouraged to stop by their local shop to pick up their bundles, driving traffic to stores, says Katie Elder, Walmart shopper marketing director at P&G. The car made its rounds last week, while out-of-Toronto deliveries will continue through the end of the month.
The campaign will be supported by a digital push across both Walmart and P&G's social channels (driving to the Walmart.ca site), as well as a digital takeover of Walmart's home page. Specially designed in-store marketing material was created for Walmart, focusing on the product innovation, which will continue to live in store on an ongoing basis.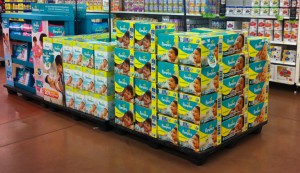 "We felt like it was more important at store level to help educate moms about what was changing with the diapers," Elder says.
Planning for the campaign started almost a year ago, says Walmart's Meghan McConchie, director of category marketing for food and consumables and health and wellness, when P&G approached the retailer with the new product innovation coming down the pipes.
The retailer, which often encourages its vendors to come up with Walmart-specific campaigns, asked the brand for a tailored approach to complement the launch.
"We said, 'How do we make this bigger and exciting and really bring it to life in a Walmart-specific way?'" says McConchie. "So we put the challenge back to them to say how can we work collaboratively to make this a great multi-channel campaign?"
The launch is supported by a mass media campaign focused on how the brand fits a baby's life, created by Saatchi & Saatchi, with strategic planning by Carat and media buying planned in house. MediaCom handled the TV and digital buy, while SMG took care of the print.