Microsoft goes big with Xbox One
The electronics co. pulls off a week-long integrated campaign highlighted by a "zombie attack" outside of a giant replica game console in downtown Vancouver.
With just more than three weeks to go until the Xbox One goes on sale, Microsoft Canada leveraged its community this week to help generate buzz around the launch of a countrywide integrated campaign.
As part of the Canadian made "One Source" campaign ahead of the Nov. 22 console launch date, around 100 "zombies" emerged from a giant replica Xbox Thursday night, creating a spectacle for passersby who had been drawn to the spot by a live countdown at the site, on Xbox 360′s dashboard and at Xbox.ca.
A man dressed up as protagonist Nick Ramos from the not-yet released Dead Rising 3 videogame appeared on the scene and doled out foam "weapons" to consumers, who "fought" off the zombie horde.
The stunt was the climax of a campaign that started on Monday when Microsoft Canada released a short teaser video on Xbox.ca  alluding to the 40- by 20-foot replica Xbox One being built. Around noon on Wednesday, the company revealed the replica's location at the corner of Nelson and Seymour Streets in downtown Vancouver and sent out a call to action to its community  - via Xbox 360 dashboards, Xbox.ca and social media – to pledge their Xbox Gamertag (a gamer's username on Microsoft's Xbox Live) to unlock the box and reveal the experience inside. Consumers could pledge their gamer tags in person at the replica Xbox, online or on the Xbox dashboard and were also promised physical and digital rewards, including a free Xbox One console. Buzz built up on social media as the goal was reached and a countdown to the experience began.
Nicole Fawcette, category manager, Xbox games and accessories, Microsoft says the company wanted to empower and leverage its community to take part in and help generate buzz around the console launch.
"We believe in empowering that community and creating with them," Fawcette says.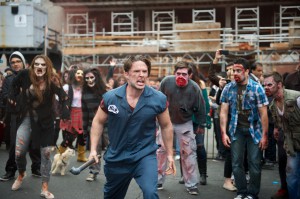 In addition, an interactive "Twitter swarm" ad was developed and executed on Thursday by Microsoft Advertising on MSN Canada's home page, encouraging visitors to the site to click on the partially covered ad and tweet the hashtag #XboxOneSource to unlock an image related to the Dead Rising 3 game, panel by panel. Once the complete ad was unveiled, visitors could click on it to visit the Xbox.ca/onesource site.
The "One Source" campaign, created with agency partners including TraffikGroup, Mosaic, Wunderman and Digital Production Services, with media by Starcom MediaVest Group and PR handled by Veritas Communications, is the largest that Xbox Canada has done in its history, Fawcette says. The campaign will tour other cities in the lead-up to a console launch event.
Microsoft went with the zombie theme in Vancouver on Halloween to promote the Dead Rising 3 videogame, in which gamers try to guide the protagonist through a world filled with the undead, in part because the game's developer, Capcom in Vancouver, developed Dead Rising 3 for the console. The immersive experiential campaign also builds on a U.S. created TV spot by  CP+B, "Invitation," in which characters from Xbox One games appear in the real world to invite people to immerse themselves in the game.
Following the interactive demonstration, passersby had the opportunity to be "zombified" by makeup artists and to have their photo taken posing with a replica weapon from the game, which they can then share on social media. Fourteen gaming stations are housed inside of the semi-trailer-sized box, where consumers can test out the new console and titles including Dead Rising 3, Forza Motorsport5  and Ryse: Son of Rome. The installation will stay in Vancouver until 10 p.m. on Friday.
The Xbox One goes on sale on Nov. 22 and is going head-to-head with Sony's Playstation 4, which goes on sale on Nov. 15.