Brands get fowl
A bird's-eye review and ratings of the flock of bird ads in market featuring everything from chickens to penguins.
Why did the chicken cross the road? To star in a TV ad. Is it us, or are ads going to the birds lately? There's a flock of them on air in both Canada and abroad and we just don't understand the sudden popularity. Are our feathered friends set to replace catvertising? Or have they just taken flight because one ad started a trend? (You know what they say, birds of a feather and all that jazz…)
CIBC's penguin takes flight
To deal with the loss of its Aeroplan partnership to TD, CIBC launched its own travel rewards program, Aventura. With creative (pictured above) from Toronto-based Juniper Park, the ad follows a "grounded" penguin (because penguins can't fly, of course), who wanders around wishing he could fly like his feathered brethren. With this new program, we learn, he can. Cue requisite inspirational music and cheesy "I can fly" end.

Rating: Three feathers (out of five). A flightless bird taking flight is a good tie-in to a travel program. But the ad is docked points for choosing the most obvious grounded bird.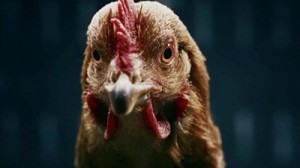 Mercedes-Benz's chicken business
To show off its new suspension stabilizer in its S-Class cars, Mercedes-Benz and Stockholm-based Jung von Matt plucked a couple of chickens to do a little dance. Held up by white-gloved hands, the bodies of the chickens are wobbled this way and that to the beat of Diana Ross' '80s hit "Upside Down" while the chickens' heads never really move. This is apparently a real thing – chickens can keep their heads very stable while the rest of their bodies move.
Rating: Five feathers. With 5.8 million hits on YouTube so far, this video, which debuted at the end of September, has clearly shown it's a campaign with wings. Also, bonus points for possibly the best use of a Diana Ross song in an ad featuring a chicken.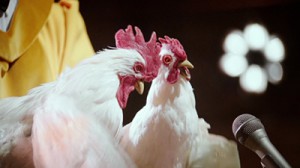 Foster Farms' musical birds
Chicken producer California-based Foster Farms and its agency Goodby, Silverstein & Partners have a trio of videos for its "Amazing chicken" campaign. The puppet chickens, held up by a gold robe-wearing silent choir, cluck out classic '80s tunes, which promptly get stuck in your head. The tracklist includes Toto's "Africa," The Human League's "Don't You Want Me" and Night Ranger's "Sister Christian." It's pure entertainment.
Rating: Four feathers for a decent chicken rendition of solid '80s tunes. Lost a point for a seemingly useless background choir.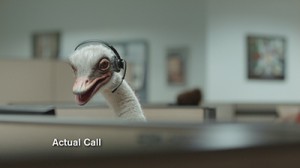 Stride's long-necked cold call

Back in February, to promote its Doodle Berry and Doodle Mint line, Mondelez's Stride Gum tapped an unusual spokesman: an ostrich. With creative from Sid Lee, the brand spent three days calling real people to tell them about the new Doodle flavours. Then, they acted out the calls with an animatronic ostrich to add some ridiculousness to the whole thing.

Rating: Three feathers. Despite the videos being a few months old, they never seemed to get traction online. But bonus points for being the early bird in a trend and for an attitude-filled ostrich.

The bird expert says: "All these examples really use birds in a smart way, not just for humour but to prove their point too (except the ostrich, which seems to be purely for humour)," Paul Riss, ACD, DDB Canada, says of the trend. Riss is an avid bird lover (seriously, he's making a movie about birdwatching) and predicts the creatures will soon replace cats as the stars of ads. Then again, he's a bit biased. "Birds are just easy to laugh at. They do silly things for mating displays. We've all seen it on some wildlife show or another. And I think the people writing this stuff grew up watching lots of TV – at least I did – and tend to remember the stuff that kept them entertained."

Missed the ads? Head to Stimulantonline.com/magazine to check them all out for yourself.