AOY Honourable Mention: Leo Burnett struts it stuff
The agency gets accolades for work for AMC, Yellow Pages, Ikea, Raising the Roof and James Ready.
The folks at Leo Burnett Canada are fond of saying it's a network agency that walks like an independent. Dom Caruso, the shop's president and COO, says he doesn't plan on changing his stride with the pending merger of its parent company, New York's Omnicom Group, with Paris-based Publicis Groupe SA.
"It won't have any bearing on our presence here or what we're focused on," he says. "It just means we're part of a bigger holding company than we were before."
Caruso and the rest of the team at the Canadian arm of Leo Burnett are driven to not just maintain independence, but to show that a Toronto-based agency in a large network can be more than an "adaptation shop." It has been leading by example, winning a second consecutive LB network AOY title last December as recognition for award-winning work and big account wins.
"For agencies in Canada that are part of a network, I think that is something anyone would aspire to," Caruso says. "What we are trying to show is, [in] Canada, we can be leaders. We can be a place in the world that other offices look at and say [we should be doing more of what Toronto is doing]."
Following an honourable mention in the Digital AOY category last year, Leo has once again set a high standard on the awards circuit, picking up hardware for work with James Ready, Ikea, Raising the Roof and others, including AOY title at the Kinsale Shark Awards in Ireland and two Silvers and a Bronze Lion for design at Cannes.
Caruso credits the success to changes made over the last couple of years, such as investing more in producing top-notch design for clients, continuing to integrate digital into the shop, and doubling the strategic planning team to an 11-person lineup. Caruso says stepping up its planning game in particular has paid dividends.
"When we win new clients, one of the things we hear is that we were providing leadership in strategy."
*****
New business : Yellow Pages, TD Bank, Enbridge, Indigo, Ontario Association of Crime Stoppers.
Key new Hires: Jason Last, senior planner; Joshua Budd, group CD; Tahir Ahmad, director, digital planning; Will Eagle, director, digital planning; Joshua Hansen, planner.
 Staff : 135
*****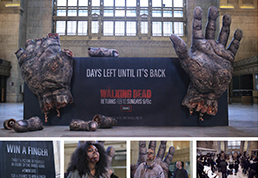 AMC lets the Walking Dead loose
While the heart of AMC's The Walking Dead series is the relationships between characters, it's the scenes with zombies that typically drive social media chatter. So for the show's season three return earlier this year, Leo Burnett engineered a buzz-worthy zombie idea to help augment awareness and excitement for the show 10 days before its return.
The agency created eight-feet-tall rotting zombie hands and placed them in the middle of Toronto's Union Station. A finger from the installation was cut off each day, "counting down" to the show's return. People were invited to post a picture of the installation on social media (and include the hashtag #TWDFeb10) for the chance to win a lopped off zombie finger.
Taking it one step further, the agency also chained "walkers," the show's name for zombies, to the giant hands and let some free to roam the train station during peak hours.
In one week, the rotting finger installation garnered more than 18 million Twitter impressions and more than 900,000 media impressions with coverage in Toronto's biggest news outlets. The show also gained 11,000 new Facebook fans and awareness of the stunt spread across the world with mentions on more than 60 blogs in multiple countries.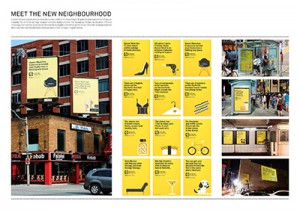 Yellow Pages brings neighbours together
Despite Yellow Pages making moves to transform itself into a digital company, the brand was losing relevance with consumers. It needed to reposition itself to fit their needs and wants, and to do this, it looked at the many different "cultural fuels" that have become important in Canadian neighbourhoods today.
For example, "Rurbanism" (where urbanites are beginning to think locally and shop for sustainable products) and "Neighbourhood Pride" fuel people's desire to have small-town experiences in large cities.
So the agency created a new brand platform for Yellow Pages called "Meet the New Neigbourhood," which launched last October. The brand's websites were renovated to incorporate the new positioning and a commercial, called "Meet the People," launched with a look at the locals who have built small businesses in cities. In addition, outdoor ads talking about the local stores, restaurants and hotels (with copy such as, "It's #summer and traffic sucks. Check out the 6 bike shops in the Annex") were placed in the related neighbourhoods.
Since the campaign launched, the Yellow Pages app has been downloaded more than 500,000 times, the brand experienced 15.2% growth in digital revenue and has seen a 30% increase in its perception as a digital company.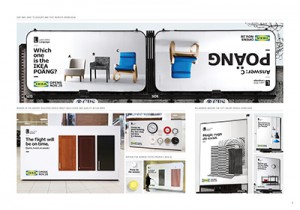 Winnipeggers learn how to shop Ikea
With the nearest Ikea being more than 2,000 kilometres away, Winnipeggers weren't deeply aware of the Swedish retailer and its store layout. Ikea needed to do more than generate awareness of its first store opening in Winnipeg. It needed to educate consumers on how to navigate the store once they entered its doors.
Leo Burnett created a six-week campaign that essentially turned Winnipeg into a "virtual classroom." The "Learn Ikea" campaign used every medium to teach and quiz Winnipeggers about the store.
For example, handbooks with chapters covering Ikea's history, products, meals at its restaurant and even the organization's value principals were sent to homes. Print, OOH, ambient and digital ads provided interactive lessons on Ikea and local TV and radio spots invited Winnipeggers to demonstrate their knowledge of the retailer by answering quizzes. In addition, a portable vending machine travelled the city, and pedestrians could open it using Ikea's iconic Allen Key to access food products and gift cards.
The campaign generated 111 million media impressions while sales for the store opening were 22% above the expected target.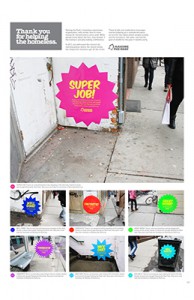 Raising the Roof shows how its hats help
For the past 16 years, charity Raising the Roof has sold toques to raise money to combat youth homelessness. While people were familiar with the program, they only had a vague understanding of what the donations were being used for.
So Leo Burnett decided to repackage the toque in bags with messages that state how purchasing a hat will help a homeless person. Fifty different packages were created, each with its own distinct benefit. For example, bags included copy that read, "This hat will help a homeless boy regain his self-esteem" and "This hat will help a homeless family find permanent housing."
To launch the drive, an outdoor store was placed at Yonge-Dundas Square in Toronto where, in addition to buying a hat, people could become mentors for a homeless youth. Stickers with messages congratulating those that bought a toque were posted in places where homeless people typically find refuge, such as bus shelters.
At the beginning of the drive, Raising the Roof ordered 40,000 hats to be sold over a 12-month period. The organization sold all 40,000 hats in less than three months, as well as the leftover inventory from the previous year.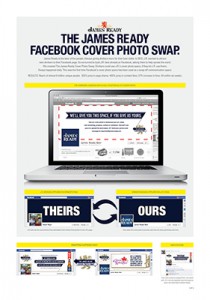 James Ready barters for social space

With a small budget, James Ready has had to look beyond paid media, leveraging owned assets such as beer cases and bottle caps to communicate and connect with its drinkers.
For the 2012 holiday period, Leo Burnett created the "James Ready Cover Photo Swap," a social bartering system that allowed drinkers to swap their Facebook cover photo with that of the brand's (and vice versa).

The campaign was promoted on the James Ready Facebook page with the message "We'll give you this space, if you give us yours." Drinkers used the space to promote their business, spread the word about their band or upcoming concert, post resumes, sell things and even impress the ladies.

The brand's message appeared on fans' Facebook pages for a day, as well as in their newsfeed.

James Ready reached nearly six million people within the first three weeks of the campaign and page shares increased by 352%. It also achieved a 402% increase in post "likes" and its Facebook fan following grew by 37%.