AOY Silver: Taxi's customized ride
The agency claims the Silver AOY prize for work for Boston Pizza, Canadian Tire, Kraft Dinner, Mio and Snuggle.
There's a lunch party going on at Taxi's Toronto offices, but the gathering of about 35 agency staff isn't to celebrate an account win or even a successful campaign. This is a surprise birthday party for Danny Smith (better known since 2010 in Western Canada as Telus' "Danny the installer"), an actor who is much-loved by Taxi for helping the communications co's Optik TV achieve a 22% market share since its launch. Which is why Jordan Doucette, ECD and general manager for the Telus account, has hopped off a plane from Montreal and picked up a one-foot-tall cake shaped like Star Wars' R2-D2 (Smith, 40, had posted on his Facebook page that it was the birthday cake of his dreams).
Later, Doucette reflects on Smith's significance for Telus and Taxi. Danny the installer was the brand's first attempt to move beyond its nature and animal branding, and Doucette credits the character, who explains how Optik TV works to customers, with helping to broaden the brand's scope.
"He was a really important moment in time," she says.
Now Taxi is at another important moment in time. Smith carves a slice of cake inside a space that is dedicated to Telus and employs the telco's branding, with picnic tables and strips of artificial grass in the centre of an office with walls painted green. Dubbed T3, Taxi's newest venture is a custom offering inside the same building where the shop's largest client and other partner agencies, such as Cossette, can work side by side on the Telus brand.
Staff sit in project pods, the work is up on the walls for all to see and there's room for the client to join in and work on the projects.
"We don't want [other agencies] to feel like they're working at Taxi," Doucette says. "We don't even really want Telus to feel like Taxi is their agency."
"Everyone talks about collaboration and inviting people into the kitchen," adds global CCO Frazer Jelleyman. "We built an entirely new kitchen."
As it turns 21, Taxi wants to show – through initiatives like the bespoke agency within an agency – that it has the right ideas and the right people behind the wheel to navigate these tricky times for traditional agencies. It's that drive to innovate that Jelleyman, who joined the team in October 2012 from U.K.-based Red Bee Media, says attracted him to the shop.
"We have created an internal structure that allows us to not just plan toward the future…but to respond very quickly to what we need to do today," Jelleyman says.
One way it's doing this is through an "accelerator program," – a small, fluid team from the agency and the client that take a break from their day-to-day duties and collectively focus on what's happening in culture, then brainstorm ideas they can bring to market directly. Currently, it's focused on Telus, but Doucette says what they learn from the pilot project will be applied to other work. One idea it produced involved using 3D printers to create customized phone cases on-site for customers who bought an iPhone or Samsung Galaxy at the launch of new Telus stores, such as one in August at the St. Laurent Centre in Ottawa.
"Taxi believes that technology in itself is not the answer but it can be part of how you deliver the answer," Jelleyman says.
In that vein, the agency recently announced it is launching a Facebook crowdsourcing project called No Place To Hi.de to try and find an answer to cyber bullying, targeted at engaging the marketing and advertising community.
The shop also made changes to its structure this year, giving two ECDs (Doucette in T3 and Pascal De Decker, who joined in Montreal this year) general manager roles, rather than the usual route of having two separate positions. CEO Rob Guenette says that is significant, in that it breaks rank from the traditional thinking that creatives "may not fully exercise both sides of their brain."
Some might have questioned whether innovation and creativity would be watered down at Taxi when it was acquired in 2010 by global holding company WPP. But after winning a Bronze in strategy's AOY in 2011 and a double Bronze AOY and Digital AOY last year, Taxi's back as a Silver AOY winner.
It heads into the new year with drivers behind the wheel who are constantly looking for new ways to get to their destination. It's an approach Jelleyman says the agency owes it fare-paying clients.
"I think we are beholden not just to ourselves but to our clients," he says, "to always be looking forward."
*****
New business
T1: Blacks – AOR
T2: Kraft accounts including Crystal Light, Mio North America and Peanut Butter; PC Mobile.
Calgary: Canada Badlands
Montreal: University of Ottawa.
Key new hires: Frazer Jelleyman, CCO; David Jenkins, president, New York; Reid Miller, ECD, New York; Pascale De Decker, general manager and ECD, Montreal; Mark Tomblin, chief strategy officer, Toronto.
Staff in Canada: 305
Offices: Montreal, Toronto, as well as Taxi 2 and T3, Vancouver, Calgary, New York
*****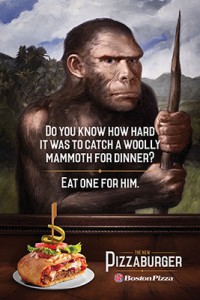 Boston Pizza's Time Travel
Boston Pizza is no stranger to using "third-party endorsements" to provide credibility for new menu items. But its newly launched Pizzaburger (a bacon burger wrapped in pepperoni pizza) deserved the approval not just from the modern man, but early man as well.
The "Pizzaburger" integrated campaign saw men of the past (such as a caveman, a peasant, a knight and a Viking), who didn't have many food choices in their day, encouraging today's men to try the new Pizzaburger in their honour.
The campaign launched with two television spots during the NHL playoffs on TSN and CBC. Online banners and pre-roll kicked off the digital activity in April and ran for eight weeks on sports sites NHL.com, ESPN, Yahoo! Sports and TSN.ca. The brand also leveraged in-restaurant assets, including posters and menu design.
It turned out to be the most popular food launch in BP's 49-year history, with total burger sales jumping substantially versus the previous year. More than 2,000 pictures of the meal were posted on Instagram.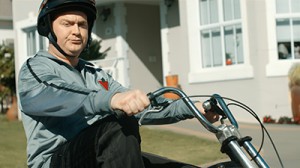 Canadian Tire reinforces its expertise
With Canadian Tire's 90-year anniversary just around the corner, the retailer felt it was the right time to reiterate its role in Canadian life. To do this, Taxi helped position the retailer as "Canada's Store," putting a spotlight on its product categories including hockey, kitchen, hunting and gardening.
First, the brand launched an anniversary spot depicting the many ways Canadian Tire has been a long-time part of the fabric of Canadian life with footage taken over the years.
Next, it introduced a witty, and often ironic, spokesman with a string of spots that showed him interacting with the retailer's various products (such as riding a Canadian Tire bike with an entourage of kids). The Canadian Tire guy also shared the spotlight with Canuck celebs, including hockey star Jonathan Toews, design guru Debbie Travis and racing legend Ron Fellows.
In addition, print ads reinforced the retailer's expertise in specific categories – from "Canada's Fishing Store" to "Canada's Racing Store."
The campaign included 22 television spots as well as radio, print, flyers, in-store and online creative. The "Canada's Store platform" also inspired a coffee table book that has been sold in stores countrywide.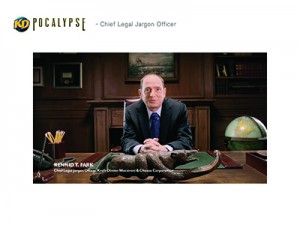 Kraft Dinner makes the most of the world's demise
o stand out amidst a cacophony of social, cultural and celebrity news fodder, Kraft Dinner looked to capitalize on the biggest news story hogging consumers' attention at the end of last year: the predicted Mayan apocalypse.
Kraft Dinner's "KD Pocalypse" campaign was predicated on a simple, but powerful question: "If the world was really about to end, what would your last meal be?" KD leveraged consumers' fascination with the apocalypse, putting the brand at the centre of the narrative by asking people that question, using a variety of media channels.
The first 20,012 people to tweet that their last meal would be KD, using the hashtag #kdpocalypse, would receive a free box of Kraft Dinner delivered directly to their homes. There was also a stream of supporting online content, including spoof zombie videos and survival guides.
In total, the campaign generated more than nine million impressions and KD grew its Twitter following to 10,000 fans from fewer than 500. KD Pocalypse also received 4% community engagement, which is double the industry average.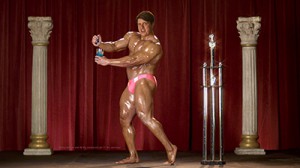 MiO changes things up
In 2012, Kraft Canada launched Mio, a concentrated liquid water enhancer targeted at male millennials (ages 18 to 34). This group already has plenty of beverage choices, but they also tend to get bored when things stay the same for too long. So Taxi wanted to make Mio the product that brought change to the tired beverage category.
A launch campaign was created with a 30-second spot called "Changes" that used more than 100 big and small visual changes – to characters, their outfits and even the room decor – between camera frames. The spot took off immediately, quickly surpassing one million views on YouTube.
The next campaign spot, "Swish," supported Mio Sport – an electrolyte-packed sub-brand. The agency created a choose-your-own-adventure-style experience on Mio's branded YouTube channel, where viewers were able to click on the screen in every scene to view up to six additional pieces of hidden content.
The final spot, called "Eye of the Squirter," was the brand's take on the juiced-up world of sports drink marketing, and showed a sports hero's persona changing more than a dozen times in 30-seconds – adding to Mio's change-centric positioning.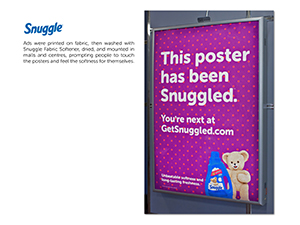 Canadians cuddle with Snuggle

In 2012, fabric softener brand Snuggle wanted to broaden its appeal to include families with older children. The brand needed to get out of the nursery and into the world without abandoning its positioning in freshness, softness and child-like wonder.

Softness is even more compelling away from home where everything else is comparatively rough. So Snuggle and Taxi decided to create soft touchpoints in the places workers frequent, such as trains, pedestrian walkways, subways, malls and office towers.

Snuggle posters were printed on soft and fuzzy fabric after being washed with Snuggle Fabric Softener, and were mounted in locations where people could touch and experience them. Eight million people saw the posters and 400,000 hands touched them.

The tactile brand experience was also taken online, with the agency creating virtual "Snuggling" web banners and a microsite that housed videos, photos and GIFs of soft items.