DAOY Gold: Tribal deepens tech ties
The agency earns top prize as Digital AOY for work for Canadian Tire, BC Dairy Association and the Canadian Tourism Commission.
This past year Tribal Worldwide's Vancouver office started an interesting pilot project. Following in the footsteps of Google (which set up co-working spaces and brought in non-Google staff), the agency invited the startup Shnarped to share office space, says Marty Yaskowich, managing director, Tribal Worldwide Vancouver, over a conference call.
Shnarped is a social platform that allows fans to connect with hockey players. Though creating a social network, especially in the hockey space, may seem a bit outside the realm of a traditional agency, Yaskowich says the partnership was mutually beneficial.
Having Shnarped employees share space with creative minds meant Tribal staff could glean valuable information on the app development process from brainstorming through to methodology. In exchange, the agency helped the developers with marketing and brand positioning. It's still too early into the pilot program for results – Shnarped launched in September – but Yaskowich is hopeful about the program's success.
It's a way for the agency to keep abreast of tech and innovation trends outside of its walls, he says, and is part of its creative arsenal (such as 10 a.m. scrums where people share and discuss cool things they spotted online) to expand its creative/tech acumens.
It seems to have paid off, with Tribal topping the Digital Agency of the Year list for a second straight year. The agency also picked up major wins, including Gold, Silver and two Bronzes at Cannes, a Silver Pencil from the One Show, and the AToMiC Grand Prix win, for its "Our Food. Your Questions." work for McDonald's (which helped the QSR secure a spot on strategy's Brand of the Year list).
As more traditional agencies veer into the digital realm, boosting their offerings and moving into the space of digital pure play agencies, Tribal has had to evolve beyond just digital, says Andrew McCartney, managing director of Tribal Worldwide Toronto.
"Change is constant," he says. "New social platforms, ambient, digital OOH or interactive TV [mediums] are popping up daily. [Tribal] was born and brought up digital, [but client's aren't] coming to us and saying 'You're digital and we need new digital stuff.'"
Rather, brands are seeking strong ideas with a core consumer touchpoint, adds Yaskowich, which may just happen to come from tech. He points to the Canadian Tire catalogue as a prime example. "It's something that's been on the doorstep of Canadians for 100 years," he says. "We took it to the next generation of technology."
The agency has made a concerted effort to boost its expertise in a number of different areas, most notably in the user experience and technology groups, with the hopes of building out its mobile and analytics team in the near future, McCartney says.
Yaskowich adds it has started to change the traditional copywriter/art director structure. "Now we're including technologists and user experience specialists earlier in the [creative process]," he says. "And it's changing the dynamic of how our ideas are coming to life." He points to recent work with McDonald's, which invited consumers to tweet short-story ideas featuring one of the QSR's products. The winning ideas were then made into animated shorts. Various departments, including creative and tech, as well as the brand were involved in early discussions to help shape the campaign.
"It's more of a scrum than it is a relay (where this group passes to that group)," Yaskowich says. "If we can physically enable that as much as we can, then the end product is all the better for it."
*****
New business: AkzoNobel – CIL Paints, Eventbrite, Nordstrom, Best Buy, Edmonton Tourism,  Fort McMurray Airport.
Key new hires: Jarrod Beaton, user experience director; Andrew Bernardi, art director; Dino Demopoulos, VP, strategy and innovation; Paul Jara, creative technologist; Jamie King, copywriter; Gillian Lanyon, strategist.
Staff: 90
*****
Canadian Tire's next-gen catalogue
Canadians are tremendously proud of their country's identity, beauty, history and way of life. With its strong roots in Canada, Canadian Tire wanted to remind customers of its connection to Canadian culture.
Tribal Worldwide created a digital catalogue for the retailer to help it define
"The Canadian Way." Canadian Tire reached out to Canucks via social media, soliciting stories it could repurpose in editorial content and videos, and post in the digital catalogue.
For example, the website included stories of a Toronto-based woodworker sharing a unique take on modern furniture, as well as an urban gardener and blogger who reveals her love for fresh produce. The content also incorporates information about Canadian Tire items the subjects are shown using, such as a gardening tool and shovel.
The "Canadian Way" is updated every season with real stories from Canucks. Just two months after the launch, the digital catalogue exceeded expectations with 200,000 visitors viewing more than 2.7 million pages. And readers are returning, with more than 36% viewing the catalogue on more than one occasion.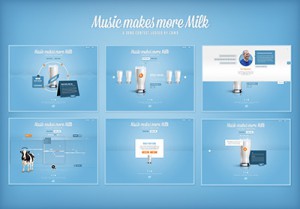 BC Dairy makes milk with music
Studies conducted in China and the U.K. show that music has a calming effect on cows just like it does for humans. As a result, relaxed and happy cows produce more milk.
This led Tribal Worldwide to develop an online music contest for the BC Dairy Association. Canadians visited Musicmakesmoremilk.com to create original songs using an online composition tool. They shared the songs with friends on social media, asking them to vote to help put them on the list of semifinalists. In all, 885 music compositions were submitted with more than 890,000 votes cast to determine the semifinalists.
From there, the top voted songs were played directly to a cow, with its reactions captured on a "Cow Cam." As the songs played, the cow produced milk, which was then used as a measurement to determine the overall winner. The grand prize included a trip for four to the 55th Annual Grammy Awards.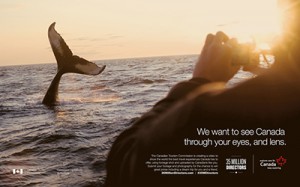 CTC enlists 35 Million Directors

Nobody is better equipped to tell a genuine story about Canadian experiences than Canadians. So Tribal Worldwide and the Canadian Tourism Commission turned the country into a giant film set and handed the job of camera operator to Canucks.

The "35 Million Directors" project and contest invited people to take photos and film short videos of their uniquely Canadian experiences, then upload them to a microsite.

Visitors could vote for their favourite footage and share the content on social media.

The CTC partnered with CTV for daily features on the channel's morning shows, such as Canada AM, as well as with French-language station TVA. On-air personalities and celebrities such as Douglas Coupland also contributed footage. It was all promoted via online advertising, social media cultivation, PR, outreach to film schools and tourism industry partners.

The campaign achieved the highest social media engagement of any CTC initiative. More than 8,000 entries were received, including 65 hours of video footage and thousands of photos. The final video (with submitted footage pieced together) was viewed more than 3.6 million times.