DAOY Honourable Mention: Ogilvy taps self-starters to deepen digital
The agency snags a Digital AOY prize for work for Dove, Tim Hortons and IBM.
Toronto-based Ogilvy/OgilvyOne, part of the WPP network, makes its first appearance on the DAOY shortlist thanks to a ramped-up presence in the digital space, including breaking down the barriers between the traditional shop Ogilvy and its digital arm OgilvyOne, says Matt Hassell, CCO, OgilvyOne.
Although the two arms have some distinct clients, Hassell says he and his counterpart at Ogilvy, CCO Ian MacKellar, have been working more closely together on its shared clients to help bridge the divide between traditional and digital.
"More and more, we're getting briefs from the client that say. 'We need to engage with our customer in a way that's meaningful,' not 'We need a web page, a print ad or TV,'" he says. "So, it makes sense to have much tighter alignment going forward."
The agency has also brought in a creative technologist – group digital director Neil Mohan, who has a background in digital marketing – to help bridge the gap between creativity and technology, while MacKellar adds that it's important for the agency to bring in media-agnostic staff who can think across all mediums.
And it seems to be working, helping the agency nab an honourable mention this year, not to mention global buzz and a Silver B!G Award for its Photoshop "Beautify" tool for Dove.
"If I think of what we did for Dove this year for the Photoshop action, it was a very simple idea, but a group of people came together to make it happen and they didn't come from traditional backgrounds," MacKellar says. "There was a digital technologist, a digital art director, so-called traditional writers – I think the next generation of agencies will [have] that kind of structure."
*****
New business: Ontario Ministry of Health and Long-Term Care, DuPont Pioneer, Heart & Stroke Foundation, InterContinental Hotel Groups Canada (Digital AOR).
New Hires: Neil Mohan, group digital director; Bryce Sparks, group account director; Ian Simpson,   senior copywriter; Catherine Allen, senior art director.
Staff: 250
*****
Dove takes action
Unilever-owned brand Dove reopened the topic of retouching and society's often distorted perception of beauty by going to the source of the problem.
The brand and Ogilvy/OgilvyOne created "Beautify," a Photoshop action that artists download to create an effect with a single click.
Dove's tool claimed to add a skin glow effect to the subject in an image. But when users downloaded the action and applied it to their images, it actually reversed the previous unsaved alterations and cosmetic changes that had been applied to the image they were working on.
When the image eventually reverted to its original and untouched state, a message appeared asking the user to reconsider their perception of beauty.
Since its launch in April, the video has received more than 1.4 million views on YouTube, garnered over 81 million impressions and sparked a 40% growth in Twitter followers.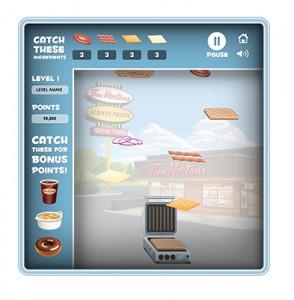 Tim Hortons' playful Paninis
The launch of Tim Hortons' Grilled Panini sandwich sparked the creation of a retro-style videogame. Since the average age of a Canadian gamer is 36, Ogilvy/OgilvyOne knew the nostalgic online game (called "Panini Pileup") would resonate with customers who remember playing similar games, like Tetris, in their youth.
At the beginning of each level, users were asked to make a specific Panini sandwich by catching the ingredients in their open Panini press. More than 208,000 people tried the game and 60,100 players returned to play again.
The game not only provided entertainment for the consumer, but also educated them on what goes into making the QSR's freshly prepared sandwiches.
The brand used social media and display banners to drive people to the game, which was housed on Timhortons.com. Players could register to win weekly $50 Tim Cards, with a grand prize of free Panini sandwiches for a year. More than 208,000 people played the game and more than 50, 700 visitors registered for the contest.
IBM Canada's conversation starter

Nothing motivates Canadians more than hearing that they're failing at something. In 2012, Canada was ranked 13th, with a "D" rating in innovation, out of 16 major economies by the Conference Board of Canada. So IBM and Ogilvy/OgilvyOne set out to provoke Canada's national insecurities and motivate a conversation that could lead to a reversal of fortunes.

The agency created the first-ever company-branded LinkedIn page, called "Conversations for Change" and used it as an objective forum, enabling big thinkers to share their views on innovation and productivity.

In addition, IBM worked with major media outlets to create objective editorial content on their online and offline platforms and placed ads for IBM alongside the articles. The brand also had the media hold live chats on the LinkedIn page and interact with the community of forward-thinkers.

The LinkedIn page attracted more than 19,000 followers and the campaign garnered more than 2.1 million page views, 62,000 social media interactions and nearly $1 million in earned media. By the end of the campaign, Canadian domestic expenditure on research and development increased by $93 million.