Kiehl's rolls out a holiday push
The personal grooming brand known for its apothecary heritage, packaging and grassroots marketing unveiled a festive makeover that spans decor and packaging, supported by a digital, social and PR campaign.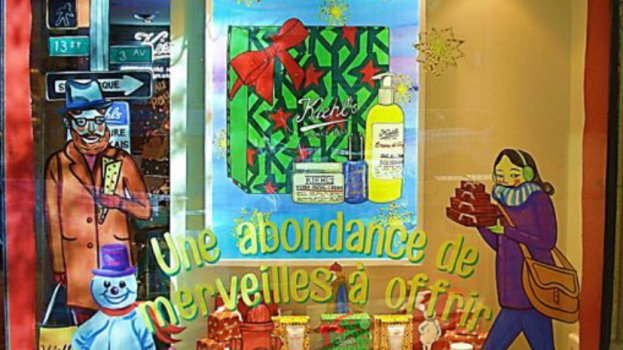 L'Oreal-owned retailer/personal grooming brand Kiehl's has unveiled its in-store marketing, partnering with New York-based graphic and fashion designer Eric Haze (whose repertoire includes work for the Beastie Boys, Public Enemy and LL Cool J) for a limited-edition package design, as well as with New York-based Fanny Gentle for an animated window treatment.

Kristin Armstrong, VP and general manager of Kiehl's Canada says the inspiration came from a "traditional holiday," and includes Frosty the Snowman-esque animation.

"It's everything you think of when you think of holiday," she says. "You've got the imagery of people shopping in the holiday season, bundled up in thick coats with scarves, and cut-outs of sleighs, or dogs with Santa toques."

The windows, which went live across Canada on Nov. 3, will pull people into stores where shelving prominently displays Haze's graphic design handiwork, which is more modern, but still has a retro feel, she says. This marks the first time Haze has worked with a skin care company.

The brand has also partnered with The Canadian Association of Pediatric Oncology Camps and is selling a limited edition tub of body butter, with a package design by an 11-year-old camp attendee. All of the proceeds from the sale, up to $10,000, will go towards the organization, which sends children with cancer to camps across Canada

The in-store activation is supported by a digital, social and PR push, including social media contests on the brand's Twitter and Facebook feeds, e-blasts and press gifting and outreach. It will also send out free samples in the mail to its customer database later this month and host community events, such as VIP breakfast/shopping trips.

The campaign, adapted from the New York head office and created in house, will be in market until early in the new year. Though early into the season, Armstrong says she's seen positive results and an increase in new-to-Kiehl's shoppers, which she credits to word-of-mouth.