Verdict: Huggies and Walmart partner to win new moms
The Kimberly-Clark brand created a customized eight-week digital campaign with the retailer to help moms design their dream nurseries.
Babies are an important area of growth for Walmart, so, Huggies maker Kimberly-Clark partnered with the retailer in a recent campaign that helped them both connect with expectant first-time moms.
The final trimester of pregnancy and baby's first few months are a pivotal time to influence new moms as they search for ideas and information, so Huggies approached Walmart with a program designed to make the retailer a top destination for all of mom's baby needs, including big ticket items for the nursery.
"Before we had done shopper marketing in a different way," says Denise Darroch, field shopper marketing manager at Kimberly-Clark. "You have your brand, you focus on that and you drive a program that is a little more brand-specific for Walmart. This time we looked at how to really focus on Walmart's key objective, and ours as well, and own something together."
Since moms make brand decisions before they enter a store, the program first captured their attention online, where they're looking for baby intel, by offering a tool to help design a nursery.
Developed with Kimberly-Clark's shopper marketing AOR Geometry Global and Walmart's digital vendor Mediative, the largely digital campaign centred around a microsite – "Huggies Baby Room By Design" – where users could drag and drop nursery items available at Walmart to create a digital collage and visualize where the items would go in a baby's room. The user could then share their "room" with family and friends via social media sites such as Facebook, Pinterest and Twitter, as well as email.
They could also download or print a shopping list to plan an in-store visit or click on the links in their online basket to go to Walmart.ca and purchase the items online.
Also on the page were a digital "carousel" of Huggies diaper products and a printable "Getting Ready for Baby" checklist featuring Kimberly-Clark items as well as products from program partners Disney and Johnson & Johnson.
Online media buys (including a baby community group takeover) were done at BabyCenter.ca, Walmart.ca and Yummymummyclub.ca to target prenatal and new moms. The program was featured in a BabyCenter e-blast and a double-page spread advertorial in Walmart's Live Better magazine, as well as in a Today's Parent advertorial and on Walmart's Facebook page.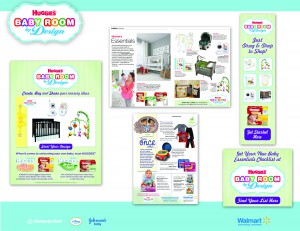 The online push was intended to drive to Walmart's e-commerce sites as well as in-store, since online visitors are known to use the retailer's website to inform their next shopping trip, says John McCullagh, account supervisor for Geometry Global. According to research from Mediative, 82% of Walmart.ca customers visit a bricks and mortar store within 24 hours.

After seven weeks, the campaign which started Sept. 1 and wrapped up on Oct. 31, delivered 19,065 unique visitors to the Walmart.ca splash page. They spent an average of more than eight minutes on the page, beating the three-minute average time spent on other Walmart branded pages, according to McCullagh. There were more than 2,253 clicks on links to Huggies product pages, 613 downloads of the Ready for Baby checklist from the site and 1,184 collages were created.

The click-through rate on banner ads on Walmart.ca were nearly double the average while click throughs on Babycenter.ca were also above average, and McCullagh says click-through rates on BabyCenter.ca's mobile site was 3.2 times above the benchmark.

This campaign also ran concurrent to a major push from Huggies' competitor, P&G brand Pampers, which rewarded 250 moms who interacted with the brand using the hashtag #PampersStork with bundles of baby products.

Following the success of the Huggies campaign, Darroch says Kimberly-Clark is looking into doing "something a little more consistent" with the program.