Jean Coutu installs an e-store window
The virtual store lets transit users shop with their smartphones and promotes the pharmacy's online boutique.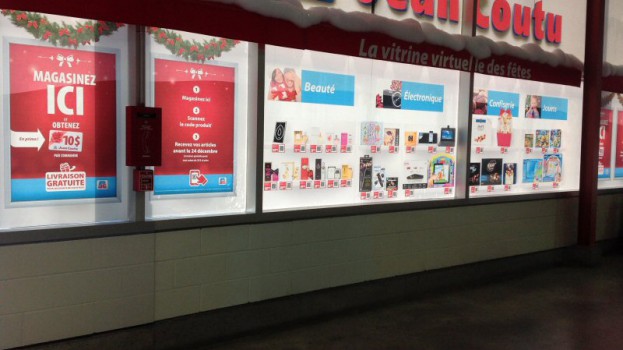 Quebec-based retailer Jean Coutu has installed an e-store window in the A Wing of the Longueuil Metro Station, just outside of Montreal, offering shoppers a chance to do some holiday shopping on the go.

With creative from Bob Agence and media by Bell Media, the e-store window lets shoppers choose from about 30 products including fragrances, toys, candy and electronics, all available on the Jean Coutu Online Boutique. Shoppers use their smartphone to scan QR codes next to the item they wish to purchase, and then follow the prompts on their phone to complete the transaction, with the promise that all purchases will be delivered before December 24. Promotional agents are on site to explain how the e-store works and assist customers with their purchases.

Hélène Bisson, VP communications, Jean Coutu Group, says this is one of the first times the e-store concept has been activated in Quebec and remains somewhat of an experiment, but that Jean Coutu would consider replicating the activation around other peak sales periods, including Mothers' Day. Bisson says that the visibility of the OOH activation on its own is a worthwhile investment to promote the online boutique, launched last year. The activation compliments a traditional campaign for the retail stores that includes TV spots, a special holiday print guide and the regular weekly flyer.

Walmart and Mattel launched a series of similar activations  in transit stations in Toronto, Vancouver and Montreal in November, following a successful trial in 2012.

The Jean Coutu e-store activation runs until Dec 13.