Marketers of the Year: Duncan Hannay takes 'richness' to the next level
As this year's overall winner, the SVP and head of Canadian marketing at Scotiabank evolves its well-known tagline and further boosts sponsorships in a stellar year for the bank.
Inside the Scotia Plaza in the heart of Toronto's financial district, a massive piece of art hangs on the main lobby wall. Scotiabank SVP Duncan Hannay explains it's "Waterfall" by Derek Besant. Commissioned by Scotiabank, it's the largest indoor mural in Canada (the bank also sponsored Besant's "Migratory" exhibit in Calgary's The Nickle Arts Museum back in 2001). It's unexpected that the head of Canadian marketing at Scotiabank would take the time to stop and discuss art, but Hannay couldn't be prouder of the piece – a nod to the company's tie to arts and culture, which he's been cultivating since he took the role three years ago, working with an arsenal of agencies that include creative AOR Bensimon Byrne, media agency PHD, S&E Sponsorship Group, Narrative for PR and Capital C.
Strong sponsorships, the evolution of the bank's "You're richer than you think" platform and the continued success of the Scene program contributed to a good year for Scotiabank. Profits for the third-largest bank in Canada (behind RBC and TD) in the past year were its highest ever at $6.5 billion, a 160% increase from the previous year.
Most people have attended – or at least heard of – one of the arts programs that Scotia sponsors. There's Scotiabank Nuit Blanche, the Scotiabank Contact Photography Festival and the Scotiabank Giller Prize, just to name a few. This past year, the bank also got behind Hot Docs, the Toronto Symphony Orchestra and Watermark, a documentary film by Edward Burtynsky.
Of course, this is Canada, so Scotiabank sponsors sports, hockey in particular, at the community level right up to being the official bank of the NHL. It sponsored Hockey Day in Canada for the third time, which was the largest single-day activation in the country, garnering 11.4 million viewers and 25 million online impressions. And the bank's latest campaign, launched in October, featured six NHL mascots to promote the bank's new ScotiaHockey NHL debit card.
"They're looking at the assets they have and being much more strategic in terms of [activating] them, driving it down to actual products and services that they could sell," says Tony Chapman, founder and CEO of Capital C. "[Hannay] has done an amazing job in that area."
With over 20 sponsorships, it seems like Scotiabank has its logo on everything. But Hannay explains that all of its programs are tied to one idea: community.
"The key is that all of these things are about really supporting the communities in which we work and live," he says, "and dialing up that aspect of giving back and creating a legacy in those communities."
Scotiabank gets behind the things that "make life richer for Canadians," Hannay adds, giving a nod to the bank's now-famous tagline, "You're richer than you think."
The tagline, first introduced in 2006, centred around the idea of helping Canadians find money, serving a functional purpose during difficult economic times.
This year, Hannay led the charge on evolving the messaging, while being careful not to sever ties to the original – and now highly recognizable – campaign.
"Richness is" launched last January, taking the campaign to a more emotional place.
"What Canadians told us about 'You're richer than you think' is that it spoke to them about rich life experience, not about monetary things," explains Hannay.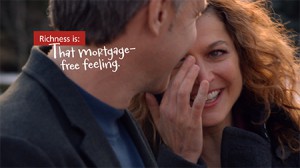 So the new creative, by Bensimon Byrne, showed the rich moments in people's lives, such as having a baby, retiring or striking out on your own. For example, one television spot showed new parents discussing what's best for their baby, with copy that read, "Richness is: a 7 pound, 4 ounce fresh perspective."
"For a Canadian bank, differentiating yourself is probably the single biggest challenge," Hannay says. "There's always a temptation to be very functional, practical and product-oriented."
Hannay knows a thing or two about the challenges of the financial world, having been immersed in it for over a decade. He had previously worked his way up to president and CEO of E*Trade Canada, a role he held when Scotiabank acquired the company in 2008. He was on the front line as E*Trade was integrated into the company and the Scotia iTrade brand was launched in just 16 weeks. In 2010, he was appointed head of marketing for the Canadian bank.
"When he moved over to Scotiabank, what impressed me most was how he built and leads his team," says Chapman, who witnessed Hannay's transition from CEO to CMO. "He's hands-off in the areas that he should be hands-off – he lets great people do great things – and he's hands-on where it matters most, which is being the eyes of senior management and [overall] strategy. He's got a real ability to see three moves ahead, and he's very direct with his opinions and feedback, which is just what you want as an agency, because ambiguity is often what sends you running in circles."
Last month, Hannay slept on the streets for a night to raise money for Covenant House's "Sleep Out: Executive Edition," an event he has chaired (check out the video).
"Duncan got me involved the first year," Chapman says. "He's totally committed to this charity and very involved. He didn't just lend his name to the board, he put his heart and his brain into it as well."
Back in the boardroom, while the other big banks have been in flux agency-wise (BMO moved to Y&R from Cossette, TD moved to Leo Burnett from Draftfcb and CIBC moved to Juniper Park from Publicis), Bensimon has been Scotiabank's AOR for 14 years.
But it's not out of complacency. "He's a taker of risks, and that's a really difficult thing to do for someone in his position," says Joseph Bonnici, CD at Bensimon Byrne.
Bonnici points to the openness of Hannay and his team to try out somewhat risky unscripted campaigns, one that surprised a customer who had just paid off her mortgage, as well as spots for the Scene program, where movie-goers were surprised to discover that their tickets and concession items were free of charge, illustrating that "Richness is: The feeling of free."
"There's no script, no [guarantee of what will happen], and instead of putting up roadblocks to ideas like that, they embrace the challenge, and that goes to their willingness to experiment and take chances."
Keeping up the momentum of the youth-friendly Scene program was a key focus for Hannay this year. Started in 2007 in partnership with Cineplex, Scene was launched with a UGC commercial campaign, targeting young wannabe filmmakers to reach cinephiles. Scene recently passed the five million member mark, and is one of the most successful loyalty programs in Canada. Scotiabank has Scene credit and debit cards, and exclusive presence in Cineplex theatres.
"Before Scene, our brand equity was lower than we would have liked in that 18-to-34 segment," Hannay says. "So we were looking for something that was unique, it could be very proprietary, and it would have high appeal to younger Canadians that were entertainment seekers."
Hannay say the success of the program is accelerating, with 25% growth last year (the most it's ever had), and projections to beat that this year. Its appeal has extended beyond the original younger target, with the average age of a Scene member being 30 years old.
This year, the program launched "Summer of Free," a series of free outdoor movie viewings across the country. A Facebook contest asked Canadians to vote for the flick they wanted to see out of three films. Four thousand people attended the events, and the "Summer of Free" generated 15.4 million media impressions and 244 stories across print, radio and TV.
And in the fall, Scene was expanded into Atlantic Canada with Scene spots in theatres, as well as digital, social, Cineplex cross-promotions and naming rights for theatres in Halifax and St. John's.
"In our category it's difficult to find unique properties and assets that we can leverage for our competitive advantage, and Scene has really become one of those programs," Hannay says.
In the new year consumers can expect to see the roll-out of a campaign for the newly rebranded ING Direct, now known as Tangerine, which Scotiabank acquired in 2012 for $3.13 billion. While the rebranding has come from the ING team and its agency John St., Hannay has been serving as an advisor on the process. "One thing we are very conscious of is maintaining daylight between the Scotiabank brand and the ING brand," he says.
Hannay says that also in the new year, the bank will further evolve its "Richness is" platform. Calling it "Richness 2.0," he remains mum on the details, simply saying that it will "drive an even deeper emotional engagement" with consumers.
"They don't want to do category advertising," says Bonnici. "They want to do Scotiabank advertising, and that's different."