Specialty TV's survival plan
As the future of specialty channels remains uncertain due to a move towards a pick-and-pay model, several channels have recently been rebranded.
Hayden Mindell, VP of TV programming and content at Rogers Media, says he wakes up thinking about cable channel packages being unbundled "almost on a daily basis."
These are uncertain times – particularly for specialty channels that cater to niche audiences – with the federal government announcing plans to mandate a pick-and-pay model and asking the CRTC to look into how it might be done.
Though some media experts, such as ZenithOptimedia's Sunni Boot, say the move could result in certain specialty channels folding, it's too early to know what form the changes would take.
What is known is that consumers support a change, with 86% of over 1,000 Canadians surveyed in a Rogers Media-commissioned Harris/Decima poll saying they want more choice in the TV channels they pay for. Rogers Media also supports the move as a means to discourage cord cutting and cord shaving.
Mario Mota, partner at Boon Dog Professional Services, a TV regulatory affairs vet who was VP of broadcast/media research at Decima Research, says TV service providers lost an estimated 11,000 subscribers in 2013 as of November.
"If you don't have a strong niche, with high-quality original programming, you're in trouble," Mota says.
So smart specialty channel programmers aren't relying on bundled packages to keep themselves afloat or waiting to respond to a pick-and-pay death knell. They're building stand-alone, multi-platform brands they believe can thrive on their own.
The changes can be seen in the way several channels have been rebranded in the past months to reach a better-defined target.
For instance, Shaw Media recently rebranded its TVtropolis channel – which had aired reruns of classic shows such as Frasier and That '70s Show mixed in with some unscripted programming such as Til Debt do us Part – as DTour to introduce programming Shaw Media says is geared at an older audience than Shaw's other specialties, one that has the time, desire and money to explore new places and ideas. Its programming now skews toward travel and food, with shows such as The Getaway, following celebrities as they visit their favourite cities, and Eat St.
Meanwhile, Rogers Media is planning to launch a younger-skewing FXX Canada to partner with its FX brand.
At Bell Media, Justin Stockman, executive director, music and entertainment, says the strategy for all its specialty channels is to create "a clearly defined brand that is really targeting someone specific,
so viewers know what they're getting. We think that will be the key to survival."
Bell Media recently rebranded MuchMore, which had gained a reputation as a sort of MuchMusic for an older generation, as M3. Its target demo was, and is, in the 18-to-34 range, but for the re-launch of the channel on Sept. 30, the company wanted to pack its primetime full of exclusive programming that appeals to 30-somethings and skews female, Stockman says. It features shows such as Reign, about the early years of Mary, Queen of Scots, and Pretty Little Liars, which moved over from MuchMusic.
While 50% of the programming is still music, older syndicated series such as Gilmore Girls and Mike and Molly fill up the afternoon schedule.
Early indications are the rebrand is succeeding. M3 primetime is up 33% with viewers this October compared to October 2012, including a 3% increase with the target age of 18 to 34.
Aside from re-examining demos, Melissa Kotsopoulos, group director, broadcast at PHD, says successful channels such as Shaw Media's Food Network and HGTV, along with Bell Media's Discovery Channel (among the top 10 channels in English Canada this fall, according to data provided by PHD) all build programming around their talent (Mike Holmes from Holmes Makes it Right and Bryan Baeumler from Leave it to Bryan on HGTV, for example) and leverage their websites as an extension of the TV channel by making episodes available online and supporting it with other content, such as kitchen renovation ideas or community forums.
"If the federal government does enforce unbundling, these channels should not suffer," Kotsopoulos says. "They are easily identifiable, viewers know what they are getting, and if they are going to be forced to pay a premium for à la carte channels, they would be less likely to take any chances [on channels that don't have well-defined brands]."
Shaw Media also uses stars to cross-promote with other channels. For example, in 2012 Holmes appeared on the Food Network's Top Chef Canada as a guest judge, lending the show some extra star power.
Rogers' Mindell says programming and scheduling to meet changing viewing habits is also very important. The company's FX Canada is growing its audience without a huge amount of original series to depend on at present, increasing its primetime national audience by 88% overall since last fall and raising its average weekly reach 48%. A big part of that growth is thanks to the U.S. original drama American Horror Story: Coven, which was the number one English program on a digital channel this fall (despite FX not being available on Bell's satellite TV), with the third season of the show more than doubling its 2+ and 25-to-45 audiences compared with last season.
But the scheduling around those hits is just as important. Rogers' Mindell says shows are scheduled to suit the way people watch TV today, with plenty of opportunities for catch-up and binge viewing.
"The way we are reaching these audiences is through the stacking of programming at key time periods," Mindell says. "We isolate opportunities for people to set aside time to get absorbed into a show."
For instance, FX runs three straight episodes of American Horror Story on Wednesday nights, while outside of primetime there's a steady dose of re-runs of popular shows such as It's Always Sunny in Philadelphia and Da Vinci's Inquest. OLN , a channel that Mindell says is "a little trickier" to program because the supply of programming is not as consistent as with FX, also depends heavily on stunting programming, such as stacking 12 consecutive episodes of Baggage Battles between noon and 6 p.m. on a Saturday.
Whether these strategies can keep every specialty channel afloat in a pick-and-pay world remains to be seen, but networks are not waiting around to find out.
They're picking a narrower target and are now paying to keep them happy with unique content, something Bell Media's Stockman says the company plans to keep focused on.
"I think we have really defined what each of our specialty brands are now, so we have a good road forward," he says. "Now it's about continuing to look for new exclusive shows where we can reconfirm what these brands are all about."
New on the specialty sked
Chopped Canada (premieres Jan. 2 at 10 p.m. ET on Food Network): Hosted by Canadian/American actor Dean McDermott (season two winner of Rachael vs. Guy: Celebrity Cook-Off), four chefs compete in a $10,000 culinary competition.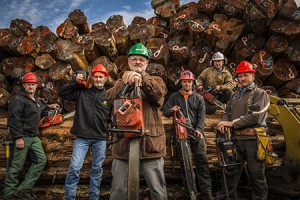 Timber Kings (pictured left, premieres Jan. 5 at 10 p.m. ET on HGTV): The reality series offers a behind-the-scenes look into the lives of a family-run business of log-house builders in Williams Lake, B.C. who build multimillion dollar homes.

The Tunnel (premieres Tuesday Jan. 7 at 10 p.m. ET* on FX Canada): The U.K. version of The Bridge (which aired on FX Canada earlier this year) is a crime-drama that involves a French and British cross-border police investigation.

Helix (premieres Jan. 10 at 10 p.m. ET on Showcase): The thriller, filmed in Montreal, follows a team of scientists from the Centers For Disease Control sent to investigate a potential disease outbreak at a high-tech research facility.

Bitten (premieres Jan. 11 at 10 p.m. ET on Space): The drama based on Canadian author Kelley Armstrong's first novel by the same name follows the adventures of Elena Michaels (played by Torontonian Laura Vandervoort), the world's only female werewolf.

Opposite Worlds (premieres in January on Space): The reality show splits 14 people into two opposing teams (in a house divided by a glass wall), with one team living a life representative of the future while the other lives in a setting of the past.

*Date subject to change

Jump to: