Arthritis Research Foundation shows the 'Power of Movement'
Promoting the organization's fundraiser, the print, TV and radio campaign demonstrates the benefits of yoga to sufferers of the disease.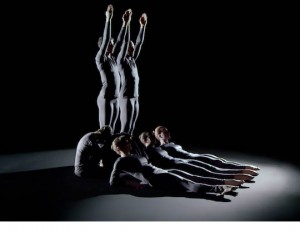 Lowe Roche's new work with the Arthritis Research Foundation hit close to home for CD Jane Murray.

Murray, who has a rare type of arthritis called Ankylosing Spondylitis, had been hoping for the chance to do creative work for arthritis when Sabrina Young, national event manager for the foundation's Power of Movement yoga fundraising campaign, contacted her through Facebook.

Young, a Facebook friend, had no idea that Murray has this rare type of arthritis, but she reached out to the right person when she asked if Murray knew of any agencies that would be interested in doing some pro bono work for the foundation, which works to raise funds for research into treatments and possible cures for arthritis and other autoimmune diseases.

"Of course I told Sabrina I would do it," Murray said in a statement. "It would be my honour – and also my challenge – to make a campaign so moving, so interesting and so beautiful that it would encourage others to join this cause."

The print, TV and radio campaign aims to bring meaning to the fundraiser's name while creating a clear link between the event and the cause by demonstrating that doing yoga brings increased movement to arthritis sufferers.

"The question was, why yoga and arthritis?" Young says of the event, which is in its eighth year. "We wanted to make sure there was a very strong correlation to the benefits that doing yoga has for people who are suffering with arthritis and we wanted to make sure it appealed to the masses as well."

For the PSA and posters, yoga instructors and dancers are posed in  shapes of the human bone system, with choreography by contemporary dancer Sahara Morimoto, showing that through doing yoga, parts of the body can regain movement.

The radio spot, meanwhile, mimics a yoga class, featuring a female instructor giving directions on how to sign up for the event and get sponsors.

The campaign was done with the support of key influencers in the yoga community such as YogaFit Canada director Lisa Greenbaum, Toronto-based Jock Yoga founder Michael DeCorte and Montreal-based HappyTree Yoga founder Melanie Richards. It  is running through donated media placements, including on Bell Media's TV platforms CTV and CP24, CBC Radio-Canada, PostMedia's National Post newspaper and Post City magazine's print and digital properties as well as Sweat Equity magazine. Posters and postcards are being displayed and handed out at yoga locations across Canada.

Young says it was too early for detailed results but the foundation has been receiving emails from people mentioning the creative and asking how they can take part in the event.