Consumer trust in business rising: study
The Edelman Trust Barometer reveals that while trust is up, breaches of privacy are a concern and the public expects the government to act as a regulator, says Edelman Canada CEO John Clinton.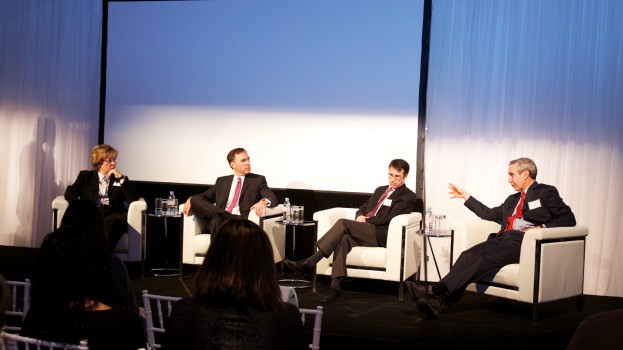 Business's lead over government in the trust department  has never been greater in Canada, but that doesn't mean the public is giving corporations a free pass to pursue profits.
That's a key finding from the 14th annual Trust Barometer survey by PR firm Edelman, which was presented Thursday at the Royal Ontario Museum in Toronto. The study found an 11 point gap between business and government in Canada after several years of relative parity.
The survey found 51% of Canadians say they trust government, a seven percentage point drop compared with 2012, driven down by a federal senate expense scandal, a power plant scandal in Ontario and the ongoing saga involving the mayor of the country's largest city. Meanwhile, trust in the private sector rose four points to 62%.
"I think what the trust barometer is telling us is that business has more trust than they used to but they are on a short leash," John Clinton, CEO, Edelman Canada says in an interview.
With companies increasingly leveraging big data to better understand consumers, Clinton warns that breaches of privacy could undo the public's hard-won trust in brands.
"The public is really saying, 'we sort of trust you with our data, please don't let us down,'" Clinton says. "They don't want data used willy nilly and they want the government to keep an eye on business and how they use it."
That gap in trust has positioned business to take on a larger role in debates about regulation and policy, says Richard Edelman, president and CEO of Edelman, as 81% of Canadians surveyed believe government should not be working alone when setting policy.
Edelman called on CEOs to engage more with the public, despite the fact they are near the bottom of the list of spokespeople Canadians trust, with 33% saying they trust them.
"It's up to the chief executive to provide context for innovation and forward progress," Edelman says, noting that 84% of those surveyed believe a company can both increase profits and improve the economic and social conditions in the communities where it operates.
"It cannot be that CEOs are present only in crisis because you build no reputational capital," Edelman says. "You have to build the relationships, have to have continued engagement.
"It is an important moment for businesses to step into the leadership void left by government," he adds. "Trust is built by performance over time. It also comes with tremendous expectations and responsibilities. It is time for the CEOs in this country and all over the world to step up, educate the public to catalyze change."
Clinton adds that he believes there is a role for business leaders to play in driving trust in their organizations, creating a culture of transparency and mobilizing employees to become ambassadors, since respondents to the survey say they trust regular employees more than a company's CEO.
The results come from an online survey done globally, with 33,000 respondents in 27 markets.
Other key Canadian findings from the 2014 survey include:
Canadians have more trust in the banking industry (at 62%) than the rest of the world.
NGOs remain the most trusted institutions in Canada (at 65%)
Traditional media remains the most trusted (at 70%) source for general news and information, followed by search engines (62%), hybrid media (55%), owned media (36%) and social media (32%)
Technology is the most trusted industry in Canada (74%)
Photo: Conference panelists (from left) Janet Ecker, president and CEO, Toronto Financial Services Alliance, Bill Morneau, executive chairman, Morneau Shepell, John Stackhouse, editor-in-chief, The Globe and Mail, Richard Edelman, president and CEO, Edelman.