Axe grows up
The Unilever brand is launching a "Pose for Peace" campaign to empower its socially-conscious target demo.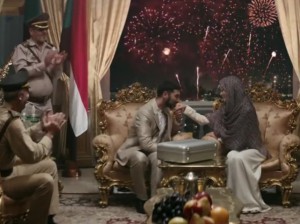 Axe, a brand associated with women falling over themselves to get to men, is changing its position around connecting the sexes.

The men's grooming products co recently launched a new line, Axe Peace, and an accompanying global TV spot during the Super Bowl that puts a more mature spin on the brand's message of bringing guys and girls together. It's part of a global campaign running until International Peace Day on Sept. 21 to empower young men and women to improve the world through simple acts of love and peace.

Axe Canada, in partnership with Break Media, creative AOR Union and Mindshare for media, is set to launch its local activation in the first week of March asking guys and girls to pose together to form a real-life "peace" sign, then upload it to Instagram with the hashtag #AxePoseforPeace. Axe will donate $1 for every photo uploaded with the hashtag to U.K.-based non-profit Peace One Day.

Kyle Millar, brand manager for Axe, says the campaign shows a more mature direction for Axe, but one that is still rooted in its DNA. The brand wanted to tap into its socially-conscious target audience of males 18 to 24 and their female counterparts with a campaign that would cut through the myriad messages they're bombarded with. The campaign focuses on the world in which the guys live and draws attention to creating a better one.

"This approach is a little more mature, but one that is cutting through and people recognize it – they know it's different."

With video consumption high amongst the demo, a clip promoting the "Pose for Peace" campaign will go live across Axe's digital platforms in the first week of March, with Break Media helping drive awareness with online content. The company has also done media buys in other online channels guys are active on.

The global commercial, "Love," created by BBH London and directed by Rupert Sanders, has already garnered over 6.4 million impressions on YouTube. It will start airing in Canada at the end of the month, Millar says.

The brand is also sampling the new product, handing out Free samples of Axe Peace at Cineplex Odeon Queensway Cinemas, Scotiabank Theatre Toronto, and SilverCity Yorkdale Cinemas on Valentine's Day, while in-store creative is also focused on promoting the product.