Lost and found spaces
The good, the bad and the legality of guerrilla ad placements.
It used to be that a cool marketing stunt would be experienced by only the people who got to witness it first-hand. But social media has expanded the reach of these micro-events, which explains why big brands from McDonald's to WestJet are doing stunts that surprise a local audience, and can then be broadcast to the world.
"Those who say 'if people don't experience [the message], then what is the value of it?' is a dated way of thinking," says Matt Litzinger, co-CCO at Cossette, whose agency affixed house numbers to park benches and above subway vents in Toronto for The Salvation Army (pictured above and described below).
But before everyone starts eyeing trees and lampposts to stick messaging on, Davis LLP's Bill Hearn, a lawyer specializing in marketing and advertising who has advised brands that were considering stunt marketing tactics, says companies need to first consider two Ds – damages and deception.
Try and anticipate any potential risk of causing damage, whether to people or property, and take steps to minimize it, Hearn advises. Also, consider whether the stunt can in any way be misinterpreted, to avoid the kind of trouble Turner Broadcasting System got into in 2007, when it placed battery-powered LED placards in 10 U.S. cities to promote a film version of Cartoon Network's Aqua Teen Hunger Force. The sneaky media placement did garner plenty of attention in Boston, just not the kind any brand would want. Parts of the city were shut down when authorities mistook the placards for improvised explosive devices and an embarrassed Turner and agency Interference Inc. agreed to pay the city U.S. $2 million in damages.
While this sort of advertising mishap can be written off as a freak occurrence, it does provide a cautionary tale. With those legal obstacles to consider, Ryan Spelliscy, SVP, CD at JWT Canada says brands thinking about using found media better have a really strong idea that will resonate beyond adland circles.
"Too often these placements are advertising folks doing ads for other advertising folks, which is something I'm not fond of," he says.
Read on to learn about a few head-turning executions.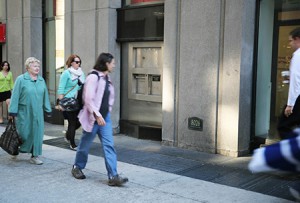 Someone's home
With the cold starting to settle in late October, The Salvation Army and Cossette attached house numbers to downtown Toronto locations that the homeless frequent, including park benches and subway vents, to get passersby thinking about the issue. Each of the about 300 signs included the message "No one should have to call this home" and included a request for a $5 donation. The campaign drummed up about 1.7 million media impressions, Cossette says.
***
Philippe Garneau, president, GWP Brand Engineering, says when weighing whether to employ found media, brands should first consider if it's right to use a public space for advertising.
"Message matters. Using found media to raise awareness or change behaviour attached to social issues feels right — public space for public good," he says. "Selling hemorrhoid cream with a message on a park bench, not so much."

Get your kicks in
In August, people walking the streets of downtown Vancouver could drop a beat on kick drum pedals Spring Advertising had attached to items like newspaper bins and mailboxes. The stunt to promote BackBeat Studio's drum lessons proved popular enough – the half-dozen pedals were gone after about a week, the agency says, while the school enjoyed a 150% increase in registrations during and two weeks after the campaign.
Down in the hole
Before the Calgary Horror Con in August, Calgary-based Wax took its marketing underground for the event by sticking posters in three storm drain grates in the city's downtown core. At night, passersby may have been startled by what appeared to be a monster with glowing eyes hiding in the sewer. The agency also placed horror-worthy stickers on bar and restaurant washroom doors (where managers allowed them), covering the universal symbols for men and women with that of axe and cleaver-wielding people standing next to severed heads.Convention founder Dan Doherty says attendance of around 2,000 people was more than double the year before and he credits the campaign with creating buzz and appealing to his target audience.
***
Watch your step. Davis LLP's Hearn says that while he liked the storm grate stunt, "you could see how the wrong kind of person…might be freaked out by that and may step back into traffic."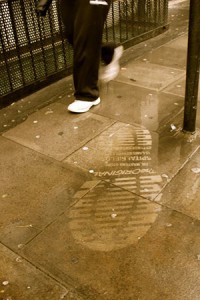 Just add water
It's amazing what you can do with a pressure washer and a stencil. Shoe brand Dr. Martens is just one company using reverse or clean graffiti techniques for advertising with help from its London, U.K.-based agency Jack (Starbucks and MTV have worked with Dutch firm GreenGraffiti, for example). In a campaign started Nov. 4, the agency sprayed about 17 oversized boot prints in London near the
Dr. Martens store at the Old Spitalfields Market with the brand and store location etched into the midsole.
***
Garneau says the proximity of a found media placement to a store matters. A message on the sidewalk outside of a shop might induce a smile, he says, but a message across Canada with a URL is more likely to make people wince.
To see the videos for The Salvation Army and Calgary Horror Con campaigns, head to Stimulantonline.com/magazine.