Take off your goggles
In part two of strategy's Future-Proofing series, Wieden+Kennedy's Colleen DeCourcy looks at why you should skip the next advertising conference and get out of your agency comfort zone.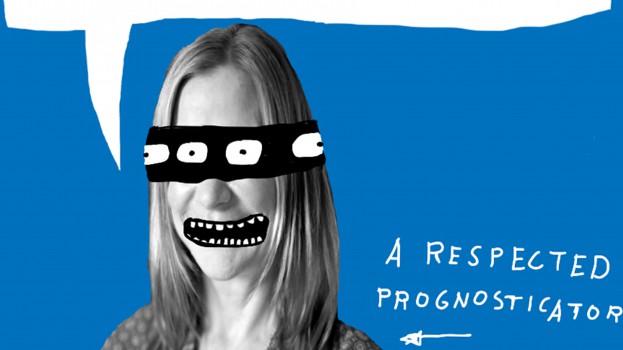 For the February/March issue of strategy, guest editor Steve Mykolyn of Taxi posed the question to several industry heavy-weights: how do you future-proof the business? They came back with their thoughts on dealing with today's world of rapid-fire change, and here we present the second of the series.

By Colleen DeCourcy

How do you future-proof? Get out into the present!

Take off your agency goggles, eject from the work bubble, get off your cultural space station and look around.

What's new? You'll see shit moves fast and you're making it through your 80-hour work week doing what you know – over and over and over and over again.

This isn't a plea for education or training. It's a plug for curiosity. Too often change agents and innovation officers are placed in creative companies to predict and advocate for the future. They are opportunists for what's to come; their tenure is short and their next move is to your competitor. Being curious about YOUR future and not just The Future is the key to competitive advantage. See stuff, feel things, use tools, break rank, understand at a high level how things work and why.

Fuck things up.

Conferences are bags of wind. Some of them escape when you open the convention centre doors, others are balloons that take you up to where you can see things for miles. If you need a conference to force you out of your 80-hour routine, pick one that isn't filled with people like you. I never learned anything at Cannes that helped my company. I haven't been to an Ad:Tech that wasn't a series of gloating PowerPoint decks celebrating the term "savvy."

When you understand what drives people, you understand what drives things. So talk to people. Don't take notes. Ask questions and disagree with the answers. Find ideas you love and push them until they stop working. If an idea never stops working, you've just found a small piece of your future. That's the key to long-term learning and discovery. It's also the key to happiness.

Have you ever been to the Frankfurt Book Fair? It'll tell you a lot about how the publishing world is changing, the battle authors fight for attention, and that people are reading more than ever; thus, stories matter. Think about it the next time someone says your livelihood is in danger and then figure out your idea delivery issue. I'm convinced that's the future of advertising.

How about a hackathon? Not for you? Maybe you're not tech enough? Go and you'll realize that it's not about tech. It's about watching people solve problems in real time. Fast real time. Figure out how you can organize your agency to solve problems this way.

Davos anyone? Go and you'll understand that collaboration and collusion at a ski resort are about as useful an indicator of people's intentions as playing doctor is an indication of your eight-year-old son's future high school GPA. Think three times before you book that team-building offsite in Banff.

The homework:

Get out and do unusual and unlikely things with people you don't know around topics that aren't core to your business. Confuse your muscles. Come back home and talk about it with people like you. You'll all be slightly smarter than you were yesterday.

The two things we know about the future is that it's always at least a day out in front of us and it's fundamentally interconnected; economy, ecology, politics, people. The outcome of today is a series of dependencies. So if you really want to future-proof, look sideways as much as you look ahead.

Colleen DeCourcy is the global co-ECD of Wieden+Kennedy. She's still not sure how that happened.

Illustration by Gary Clement.