Shopper Marketing Forum round-up
From socio-cultural shifts affecting the consumer brain to Big Data and what millennials want, here are a few takeaways from the Shopper Marketing Forum.
With industry experts weighing in on everything from understanding the new shopper mind to Big Data and loyalty, strategy and Match Marketing's two-day Shopper Marketing Forum wrapped up today with the Shopper Innovation Awards.
Here's a look back at a few insights we took away from some of the sessions.
Decoding the new shopper mind
The forum began with a keynote address from consumer psychologist Kit Yarrow of Golden Gate University. Yarrow presented new findings from her book, Decoding The New Consumer Mind: How and why we shop and buy, which is set for release this month and highlighted three socio-cultural shifts that have had a big effect on the consumer brain. This includes consumers' use of technology, increased levels of emotion and a heightened sense of individualism. Yarrow then laid out five tips for brands to address them: Involving consumers, providing extra value, overcoming the trust deficit, communicating to be heard and innovating with technology.
For more on Yarrow's presentation, see SMF: Decoding the new shopper mind.
Cats, dogs and Big Data
Forget dogs, marketing has gone to the cats.
Rick Ferguson, VP of knowledge development at Aimia, who flew up from Cincinnati to give a talk on Big Data and loyalty at day two of the Shopper Marketing Forum, presented the analogy of customer's "loyalty power animal" akin to our feline companions. They're typically disinterested in what a brand has to say unless they're scratching their back, and they're quick to pounce if something goes wrong.
Customer-centric data that marketers can mine from loyalty programs is essential to turning cat people into loyal dogs, he affectionately mused, adding that to build "real relationships" with "emotional engagement," consumers must feel they have "high control" of the data they share. By putting that extra layer of value and recognition on the table through loyalty programs, they're also more inclined to share information about themselves and have a better understanding of why their purchases and interactions are being tracked, he said.
Beyond loyalty programs as a source for data, Ferguson also pointed out the yet-to-be-fully-tapped platforms like Siri, Google Glass and Nest that marketers should begin to focus on now for future mining. He referred to the "machine learning" (a branch of artificial intelligence) platforms as systems that can learn from the data being plugged in by its user, acting a source of a wealth of information for marketers to unearth.
What millennials want
Jesse Jones, president and chief innovation officer, Ten81 Lifestyle, led a panel of millenials, each at various stages of life, in a discussion about how they engage with brands and their shopping habits. The panelists, ranging from a 17-year-old high schooler to a 32-year-old new mother of twins, talked about topics including how they value the personal touch of brands' social media efforts, they appreciate being "spoken to" and not "talked at," and the importance of word-of-mouth recommendations when it comes to how they spend their money. Most participants confessed they do not watch TV, with that time replaced by YouTube, with sports as the lone exception. One thing they all agreed on: If they left the house without their phone, they would go back to get it.
Keeping shoppers' emotions in check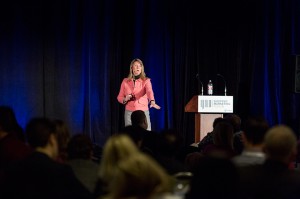 In her keynote address on "Connecting with the emotional shopper," Michelle Adams tapped into the importance of emotion in shopper marketing. She pointed to POPAI data indicating 82% of mass merchant purchase decisions consumers make occur in-store, suggesting a significant opportunity exists for brands to connect with shoppers in-store. Her 12 key in-store principles included: focus on images of people for better breakthrough; overcome consumer guilt around certain products, giving the example of positioning chips as an accessory to fresh guacamole; recognizing love of a product and packaging happens at first sight from a distance and recognizing price is not always king.

The polarization between premium and value

In "Retailnado: how to prep for the next big disruptors," Carman Allison, VP, consumer insights, Nielsen shared data about Canadians' spending. While 8% report they spend freely, 51% live comfortably and 41% report affording just the basics when shopping, which he says highlights how the need for retail deals will continue.

The retail landscape is shifting to a polarization between value and premium brands, he says, noting the success of premium retailer Whole Foods. Dollar stores could emerge as a threat for the future because of their growing food offering, he says, highlighting data which indicates 83% of American dollar store consumers buy food. In Canada, Allison predicts a dramatic increase with the influx of refrigeration and dairy into the channel through retailers like Dollar Tree.

By Matthew Chung, Jennifer Horn, Michael Kolberg and Tanya Kostiw

Photos by Ryanwalkerphoto.ca