Soshal and DS+P form partnership
DS+P partner Serge Rancourt and digital agency Soshal CEO Dave Hale weigh in on the new union.
Ottawa-based agency Soshal has set up shop in Toronto with its new partner DS+P.
The news comes weeks after the DS+P's hiring of Denise Rossetto and Todd Mackie and and agency rebrand.
Although the two agencies will remain completely independent, the union extends the relationship the two have had for about a year, working together on projects such as a campaign for York University.
Opening a Toronto office was right for Soshal, which has been in business for about four years, says Dave Hale, CEO, Soshal. Nearly half of its business is now based in Toronto and among the agencies objectives are meeting in person with existing local clients and pursuing new business with DS+P.
Soshal designs and builds digital products as well as offers business solutions through digital or technological means, explains Hale, and its clients often need creative work the agency cannot provide. Soshal has had similar offers to partner with other agencies, but has found the right one in DS+P, formerly Doug + Serge.
"We didn't want to align ourselves with someone who just looked at us as a meal ticket," he says, but rather an agency "we could partner with and grow business together"
Discussions around the partnership first began in November and Soshal officially set up shop yesterday.
"It's just like when you date someone and you realize that they're the one," says Hale. "It was just a natural fit, conversations started and they allowed us to have that expedited presence in the city."
Hale and another member from the agency will travel between the Ottawa and Toronto offices, while the new location will hire new staff, including a senior product manager and business development lead.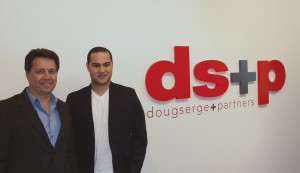 Hale says the two agencies are currently pursuing about half a dozen opportunities together with major brands, primarily in the retail space, but could not disclose further details.

Serge Rancourt, partner, DS+P, says the new partnership will help his agency, which relies on media partners, to be able to discuss the use of technology in a campaign at an earlier stage. The additional services can also be beneficial when pursuing new business, he adds.

"Technology without creativity is nothing because creativity is still the king in terms of what you need," Rancourt says. "But also, creativity without technology is getting weaker because technology is really the way to engage the consumer with that great idea.

"So the timing is perfect for us and hopefully for them too."

Handshake image via Shutterstock