Tomorrow's retail tech today
The store of the future is already here, and it's imitating the web while getting smaller and smarter.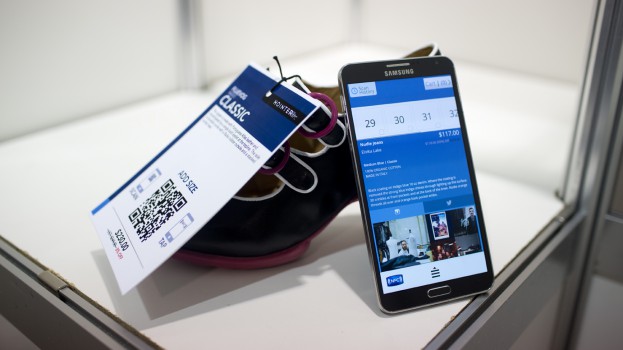 Here's a head-scratcher for you. The store of the future could very well be a moving, talking, living mould of a website. That webpage-lookalike will, in essence, be able to measure traffic, dwell time, hot spots, conversion rates and queues, in real-time. The kicker is that the store of the future is actually the store of today, with retailers like American Apparel and Bloomingdale's already playing with in-store analytics, using cameras and WiFi to track traffic, frequently visited departments and average visitor times (for more on RetailNext products, see below).

This new reality is currently being demonstrated at the DX3 conference in Toronto. The in-store analytics is one of eight different technologies curated by Doug Stephens (president and founder of consulting company Retail Prophet) and combined to create a fully-fledged concept store called the Retail Collective. While most of the tech companies exhibiting in the space are based in markets outside the Canadian border, they are searching for innovative retail clients to partner with north of the border.

StrategyDaily entered the doors of the Collective on Wednesday to test out some of the best tech first-hand. Here's what we found.

Where: Seattle, Palo Alto, Singapore, London
Who: Levi's is currently working with Hointer to launch five branded stand-alone stores in New York and California.
What: This part-technology, part-fashion company decreases both time spent in a store (for a customer) and overhead costs (for a retailer). But its bricks-and-mortar store is nothing without its app. When a person walks inside, they're faced with a minimalistic scene of jeans hanging from what looks like a washing line. Using the Hointer app on their phone, they can tap (NFC) or scan (QR) an "e-tag" that resembles a price tag, and watch the item appear in the shopping basket of their device. Then, they choose their size, and continue browsing other styles until they're ready to try them on in the designated changing room (where the items in the correct sizes are delivered through a chute). Sales associates can also track the shoppers' picks on a tablet in-store and try to up-sell them by sending matching shirts and shoes to the changing room.

Where: New York
Who: Maker's Mark, Kiehl's, Gillette, Nexxus, Wollite
What: The free-standing installation from Perch projects light from above onto surfaces in stores to give items a layer of interactive content. For example, shoes are perched on a table in the centre of a store, and when a person picks up a pair they fancy, the light sensor detects and reveals a window of options for more information on pricing, stock, colours, reviews and even videos with branded content, which shoppers can touch and browse. The technology can be used for other products like cameras, beauty creams, glasses and handbags. Each touch is tracked and dwell times are reported back to the brand.


Where: California
Who: American Apparel, Bloomingdale's, P&G, Verizon
What: Developed by engineers during their tenure at Cisco, the Retail Next in-store analytics technology tracks traffic coming in and out of the store, where customers spend most of their time, how they navigate the store and how long they spend in front a specific aisle or display with the use of cameras, WiFi and Bluetooth. To maintain customer privacy, the cameras are installed in the ceiling to provide a top-down view of shoppers and their path (only the tops of heads are seen). The company provides customizable and kinetic map reports that include traffic numbers, dwell time, weather data (rainy days = low traffic) and conversion rates for employees from CEOs to general store managers.

Where: Vancouver
Who: The Mobile Shop at Loblaws
What: The company's Shelf product hasn't yet launched,  but expect to see the platform that bridges the digital and physical worlds in the second quarter of this year. Using Loblaws Canada as a demo retailer, the company shows how shoppers can touch and try out tangible items of kettles and kitchenware on a shelf, while also interacting with a large screen above. Customers can browse different colours and styles of the products not displayed (and sitting in the store's backroom or warehouse), order and have them later shipped to their home. The entire experience imitates online shopping with the ability to compare products, access stock info and prices, as well as watch ads for each of the products.