Cisco to build an Internet of Everything Centre
The company's new innovation lab is under construction and hunting for brand partners.
Cisco is not about to be left in the dust when it comes to the "internet of everything" phenomenon. All intentions to be at the forefront of this percolating paradigm shift were made nearly two years ago when it introduced the "Tomorrow is Here" campaign. And now, the company is putting its money where its mouth is, announcing one of four IoE Innovation Centres, where interconnectivity will be studied by startups and innovators, is set to open in Toronto in 2015.
The hubs (also in Germany, Brazil and South Korea) represent a $100 million investment over the next decade, a worthwhile pittance when considering the company's chance to have a stake in what's estimated to be a $500-billion opportunity in Canada alone by 2022 (according to Cisco research). The centres also create a "rally point for companies to come together instead of [seeing the Internet of Everything] as just a notion that's out there," says Mark Collins, VP of marketing for Cisco Canada. "We're going to do something about this and leverage the infrastructure and see what's in it for all of us."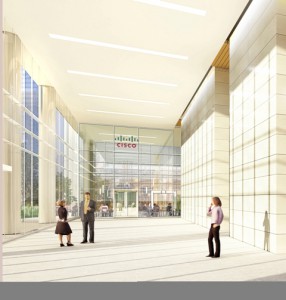 It's still in its early days, and construction of the four-floor lab in the RBC Water Park building is just beginning, but Collins says he's eager to meet with marketers in various industries from healthcare to retail, across the country, to explore their expectations and brainstorm ideas that can be brought to life in the centre. While he says he hasn't met with anyone just yet, Collins is already envisioning conversations with marketers in retail regarding real-time advertising in store.

"It would be interesting to sit down with a CMO and figure out what that looks like, in terms of being able to walk into a store and have a customer's mobile device authenticate with their store…and send information and offers that are reflective of what they were looking at [on the internet] during their research before entering the store," he muses, "and then look at what that means for other [sectors] in that industry, like what does it mean for the supply chain or the digital sales force."

As marketers develop high expectations of technologies around hyper-connectivity, adds Collins, so do a brands' expectations of marketers' abilities to communicate the benefits to consumers. "Marketing's role will be to explain in layman's terms…and encourage people to adopt some of the solutions being developed," he says. "We're making the benefits consumable and understandable [for consumers] and creating an appetite for participants to join."