Top Cannes contenders: Press
Strategy is counting down the campaigns most likely to win big at the Palais at this year's festival.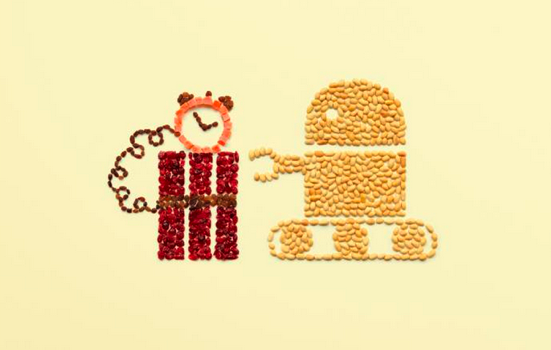 As we count down the days to the Cannes Lions submission deadline (March 28), strategy is rounding out the most likely contenders for each category, tapping the top folks in the industry to help us narrow down the list. This week, we're taking a gander in the Press category. Check back regularly until the deadline to see which campaigns have the best shot in Cannes.

Campaign: Meant to be mixed
Brand: Krispy Kernels
Agency: Lg2

Chosen by Addie Gillespie, CD, Dare Vancouver

Lg2′s Krispy Kernels campaign showcases the product in simple illustrations with ominous outcomes to show that fruit and nuts are "Meant to be mixed." A robot is about to meet its fate with explosives and a dinosaur with a fiery meteor.

I'm always interested in Cannes Press and Outdoor because they tend to celebrate visual executions that don't need a lot of explanation or translation – which is why I think these minimal, beautifully-crafted ads will fare well this year. They do a wonderful job of bringing the product to life in charmingly destructive scenarios where you get to use your imagination to see the simple outcome – mixed fruit and nuts. Strategically, I think it was smart to stay clear of the health benefits, taste, portability or the like, and instead entertain and connect with people's lighter side. After all, we all know what fruit and nuts taste like.

Campaign: Wi-Fi
Brand: SurfEasy
Agency: KBS+

Chosen by Luc Du Sault, partner and CD, Lg2

My pick in Press this year would be the SurfEasy campaign from KBS+. The visual is the classic Wi-Fi symbol where the waves become fences, protecting a person who is working on a computer at his desk. Between the fences, a few German shepherds or police officers reinforce the security and add a nice human touch. The tagline reads: Protect your privacy on public Wi-Fi networks.

Why does it have a chance at the Lions? Let's start with simplicity, an essential criteria, especially in Press. The merge between the iconic Wi-Fi logo and the protection symbol of the fences is so simple it makes you wonder if the tagline is necessary. It's a very important aspect because judges spend an average of seven seconds to understand a print ad at Cannes. The other point is crafting. A mix of photos and illustrations is a great choice here. Only using illustration would've made it less serious for the subject. The execution is flawless and the light grey background makes all the elements stand out. A simple, clear and modern image nicely done.

Campaigns: "Tabloid," "Unfindable"
Brands: Woodgreen, Sears
Agencies: DDB, Lg2

Chosen by: Michael Murray, CCO, Blammo

As a CD, I share some responsibility for the lack of great print work in Canada this year. But the truth is, I couldn't find a print ad with an amazing idea. Nor could I find an execution that used the medium differently. However, there was some work that might have an outside chance of picking up a Bronze. DDB's "Tabloid" print campaign for Woodgreen.org falls in this category. It's a simple premise with a social commentary that is universally understandable.

I also think Lg2′s new "Unfindable" campaign for Sears might have a chance. Once again, it's simple and smart, but it's far from being a sure bet.

There is a trick to winning at Cannes. It's all about simplicity, and being a little tricksy.

These campaigns will just seem clever to the jury, and I think they would stand out in the Press category. As I said, it's pretty slim pickings, but I think these all have reasonably nice ideas at their core, and make their points in relatively interesting ways. But overall, I can't honestly see a medal for Canada in the Press category. I really hope I am wrong.

Did we miss a Press contender? Weigh in below. 

Check out the contenders in the Radio, OOH, Innovation, Creative Effectiveness, Film Craft, Promo & Activation, PR, Mobile and Film categories.