Top Cannes contenders: Direct
Strategy is counting down the campaigns most likely to win big at the Palais at this year's festival.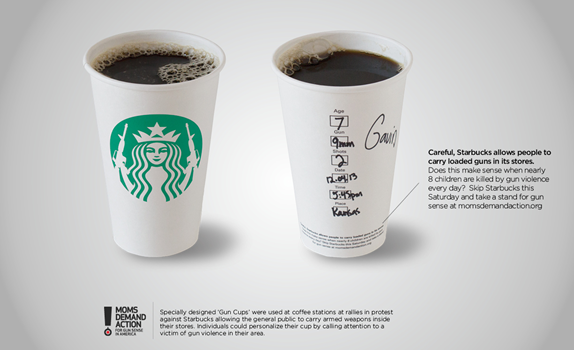 As we count down the days to the Cannes Lions submission deadline (March 28), strategy is rounding out the most likely contenders for each category, tapping the top folks in the industry to help us narrow down the list. This week, we're taking a gander in the Direct category. Check back regularly until the deadline to see which campaigns have the best shot in Cannes.

Campaign: Starbucks
Brand: Moms Demand Action
Agency: Grey Canada

Chosen by Ian MacKellar, CCO, Ogilvy

The Direct category continues to be a source of innovative thinking and even more innovative uses of technology. That being said, my pick for Cannes Lion potential this year is rather low tech.

Grey Canada continues to help create awareness around the issue of gun control with this rather clever, subversive and potentially litigious use of a coffee cup. These cups were created on behalf of Moms Demand Action to make people aware of a certain coffee company's willingness to allow people to bring automatic weapons into their stores under state "open carry" laws in the U.S. The message is simple, to the point and a fitting companion to what is already a multi-Lion winning campaign.

Campaign: MyAudi
Brand: Audi
Agency: Bimm

Chosen by Trent Thompson, CD, Proximity

Ask a Lion and it'll tell you direct marketing is about targeted communications that trigger a response or action, and prolong a consumer's relationship with the brand. Ask me and I'll tell you "MyAudi Tracker" has a real shot at going to Cannes to get a new pet.

This mobile-optimized program serves up content to customers waiting for their custom vehicles to be built and delivered to Canada from Europe. It engages these excited new drivers on a biweekly basis from the very moment they order their car to the moment it arrives at their dealership. But most impressively, the content is uniquely relevant to the individual owner – from where their vehicle is on the line to an audio file of their car's first engine roar – and it is delivered in real time.

From tip to tail, each customer's "MyAudi Tracker" experience is as unique as each Audi coming off the line. The program is born of a real customer insight – as soon as you hit the submit button on your new order, you're waiting for your new car with bated breath. And the app is built to keep you from hyperventilating.

So what's the desired response this initiative is supposed to trigger? Excitement and love. Excitement that your new car is on its way and love for the brand. It delivers on both. In spades. And come June, I don't think the engine will be the only thing roaring for Audi Canada.

Campaign: No Child For Sale
Brand: World Vision Canada
Agency: KBS+

Chosen by Scott McKay, VP, group CD, MacLaren McCann

This past year there was a lot of good direct work. Bimm's "MyAudi Tracker" was smart, well done CRM. BBDO's "Smart" holiday bumper stickers DM was beautifully executed. And although it wasn't really direct, Grip's "In/Operable" donation box for Sunnybrook was so brilliantly simple and inviting to action that it's hard not to applaud.

But for Cannes I'm thinking about KBS+'s "No Child For Sale" campaign for World Vision Canada. It's an attention-getting idea that, with its familiar "home shopping" execution and blandly-slick hosts, really brings home the awful, casual reality of child labour and child slavery in too much of the world, in a way that's deliberately designed to make you uncomfortable – which is the only appropriate reaction –  more than enough to power your response.

Even better, the action that's being asked for isn't the typical "give us your money and we'll solve the problem." Instead, the campaign is about getting you truly involved, giving you a range of responses to spread the word about the issue through your social channels, or sign a petition asking the federal government and Canadian businesses to act.

"No Child For Sale" was a brave and creative step to get Canadians to not only acknowledge a widely-ignored issue, but also to see that they can actually do something about it.

Did we miss a top Direct contender? Weigh in below. 

Check out the contenders in the Press, Radio, OOH, Innovation, Creative Effectiveness, Film Craft, Promo & Activation, PR, Mobile and Film categories.