Coming soon, a 4D theatre near you
With L.A. getting its own hyper-experience cinema screen, it may be only a matter of time before they come up north.
Silent films eventually found sound, black & white talkies received a colour treatment and two-dimensional actors began stepping outside the screen. It was only a matter of time when the environment would become an active player in the cinema experience, as movie-goers expect more if they're going to waive watching in the comforts of their home on their big-screen TV.
Four-dimensional theatres, where you can get caught in a rain shower and smell bacon being cooked on screen, may be the future of date nights across America. That's because CJ Group in South Korea has just signed a deal with AEG and Regal Cinemas in L.A. to erect the first 4D screen in the States (America's a bit behind the times – there are already 91 of these $1 million-a-pop screens across 23 countries).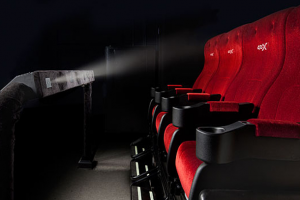 Just imagine the added layer of sensory marketing you'll be able to bring to your brand's next in-cinema commercial? Picture a KFC sandwich on screen and wafts of fried chicken blowing through the aisles (make sure you have a quick-serve station in the confectionery section to cater to the hordes of suddenly KFC-craving fans). Or better yet, why not help prepare movie-goers for the uncomfortable side effects of the wind, fog, rain and vibrating chairs by giving out free Perrier-branded rain jackets with ticket purchases, or a Gravol sample to help curb motion sickness? We could go on and on.

From Stimulant.