High performance: Subaru dodges drones
Tapping into a burgeoning trend, the campaign for the WRX and WRX STI seeks to broaden the brand's appeal with performance vehicle lovers.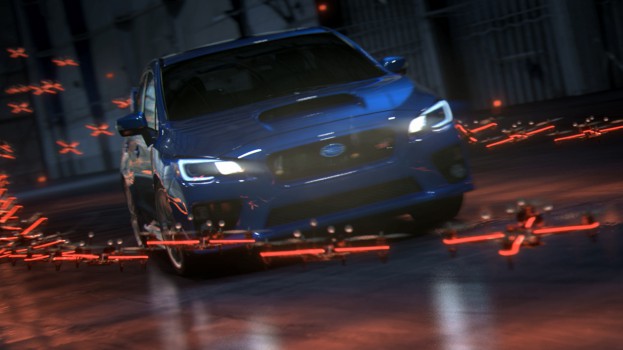 Subaru Canada has tapped into the drone craze to launch the 2015 model of its WRX and WRX STI, and show off its improved handling abilities.

In a commercial by DDB Canada, the vehicle navigates a cluster of drone quadcopters that shape-shift into road obstacles, forcing the driver to alter course in real-time.

"It's basically the evolution of the pylon," says Rob Sturch, ACD at DDB Canada. "Drones are trending and we thought it was a really unique way to use them."

The spot is a combination of a one-day shoot on a closed circuit in a Hughes Airport hangar in California and computer-generated animation, Sturch says, done in partnership with L.A.-based digital studio Big Block and its proprietary Drive-A-Tron technology.

The simulator uses the computer aided design data from the manufacturer and combines it with other physical characteristics to create a CG experience that is true to the car's capabilities, Sturch says.

"We didn't want to misrepresent the performance of the car," Sturch says. "Everything it does in this spot is replicated from real performance attributes of the vehicle."

With many current Subaru WRX and WRX STI owners being passionate "gear heads," the 2015 model has been modified (with an optional paddle shifter for automatic models, for instance) to appeal to a wider audience, while also resonating with brand loyalists, or "tuners" (drivers who like to modify the appearance or performance of a car), says Geoff Craig, director of marketing, Subaru Canada. The spot, an "exciting display of precision driving" that will leave anyone interested in performance cars with "their heart pounding," according to Craig, seeks to draw in the much larger group of "performance car enthusiasts," he says.

"This car is no longer just for the boy racer," Craig says.

The online video, which launched this week, is supported by a specialty TV buy, cinema, print and digital, Craig says.  A branded experience with Xbox Live is scheduled for the end of April, where users can watch the video, and race through a drone-driving-course game.