Canadian Tire ups the drama
With a helicopter chasing down a car, the retailer continues its push around innovative products with an extreme tire test.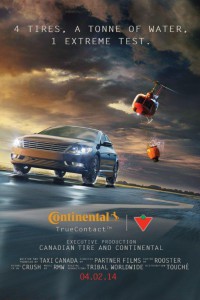 Canadian Tire's "Tested For Life in Canada" campaign is reaching new heights with a dramatic spot that demonstrates how well its Continental TrueContact tire performs in wet conditions.

Targeting a male demographic, the video, by Taxi and with media by Touche, shows road conditions changing very quickly for a test driver racing along on a dry tarmac (the video is shot in Cape Town, South Africa), when a red helicopter with the Canadian Tire spokesman as a passenger drops a ton of water directly in its path just before the driver needs to slam on the brakes to avoid an obstacle. It will live on YouTube, with placements on Facebook, Twitter and Instagram, and will be broadcast on TV sports channels.

It is the latest evolution of the "Tested" campaign started in July 2013 to demonstrate Canadian Tire products are quality tested and up to the challenges specific to Canada, says Susan O'Brien, VP, strategic marketing at Canadian Tire.

It's a strategy that had been front and centre during the years the company ran its "Ted and Gloria" campaign, in which Canadian Tire guy Ted often showed off Canadian Tire product features that set them apart. Since retiring those in the mid 2000s, the brand had gotten away from demoing products, something it wanted to rectify to provide "rational reasons to come into Canadian Tire," O'Brien says.

Since the "Tested" platform's launch, the company has "gotten into more and more interesting types of tests," O'Brien says, dating back to putting a waterproof tent through a car wash and its Ice Truck execution in January that tested the Motomaster Eliminator battery, with those more "dramatic" spots of products scoring better in Ipsos ad tracking, O'Brien says.

The online video also drives to the brand's tire testing website, with a 15-second teaser running as pre-roll, encouraging viewers to click through to the site to see the rest of the video. Digital banner ads appearing on sites such as MSN and Rotten Tomatoes, use a movie poster concept developed by Tribal Worldwide to bring the "Extreme Test" idea to life across all digital properties, Canadian Tire says, with the intent of grabbing the viewers' attention to want to see and learn more.