Amazon's game-changing grocery device
Scan a product in your own home for easy delivery? Dash could force retailers and manufacturers to rethink how they sell to consumers.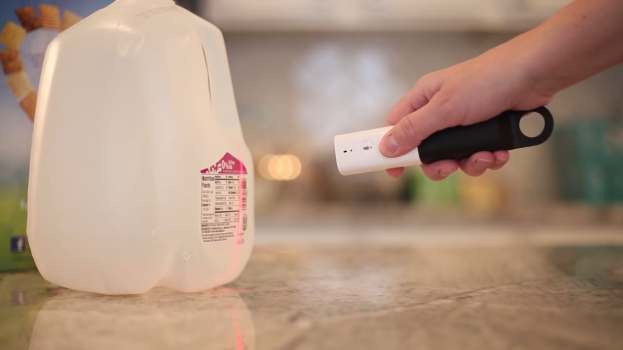 Amid Amazon's recent announcement of its increased product selection (a million new SKUs across categories such as beauty, health and dry grocery) you'd be forgiven if you missed the news of Amazon's next big digital play into the grocery business.

Launched in early April, Amazon's Dash is a new wand-like technology that clips to your fridge. The voice-activated stick is synched with your mobile devices or digital Amazon account, allowing you to say a product name (say, Honey Nut Cheerios) to be added to your virtual shopping cart. The device can also scan existing product bar codes, adding that particular brand to your list. Click "check out," and you're done.

The device is only available for current Amazon Fresh customers (for free, but by invitation only at this point), the perishable food delivery service currently available in L.A. and Seattle, meaning here in Canada, grocers can breathe a sigh of relief. But, Jason Dubroy, managing partner, Shopper DDB, warns that retailers and manufacturers north of the border should start to brace themselves for how this technology may change the shopping landscape.

"The easier you make something, the more apt people are to try it," he says. "And if you think about all the innovations Amazon's brought to the table in the past and how it's changed shopping behaviour – [such as] the one-click ordering principle, the wishlist, product recommendations – then this could be a game changer."

For retailers comfortable that their fresh produce will still draw consumers into stores, Dubroy cautions that as it becomes more accessible, consumers will start to migrate online for their groceries. A device like Dash could make it ever easier. In the U.K., he says 40% of consumers already purchase their groceries online. In Canada, startups and smaller grocery chains have already begun to train customers about the ease of digital grocery shopping.

For manufacturers, Dash could force them to rethink their marketing strategies for a more omni-channel approach – how you choose a product in store versus online is different. And, a device like this could make it even harder to get new customers: how do you convince someone to buy a new product when all they have to do is scan their tried-and-true brand and they're done?

Digital grocery shopping is still in its infancy here in Canada, so retailers don't have to worry about the Amazon effect just yet. However, Amazon has announced plans to roll Fresh out globally and media reports have circulated that it may be coming to Canada this year. And with the increased product selection, dry grocery items may become the staple of Amazon purchases, chipping away at bricks-and-mortar's share.

Canadian retailers haven't been inactive in the digital grocery space, however. Longo's Grocery Gateway has been in the grocery delivery business for a few years now, and last month, Metro rolled out an update to its phone app allowing consumers to scan a bar code at home to automatically add an item to their shopping list (though, the consumer still has to head to stores to pick it up), while Loblaw has been exploring options to allows consumers to buy online and pick up groceries in stores, with a pilot rolling out later this year to test online grocery pick-up at two stores.