One Direction jazzes up snack packs
A campaign from Mondelez beginning next month leverages the tween-favourite band with merchandising and a chance to meet them.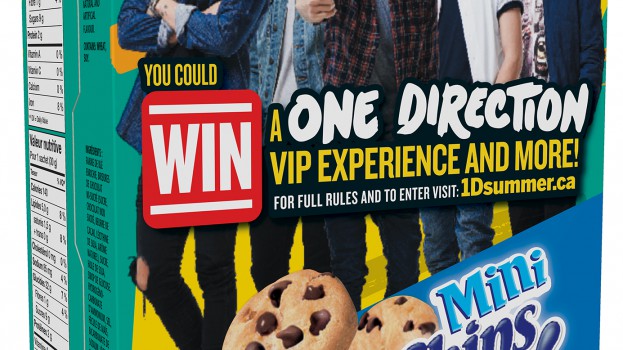 Mondelez is leveraging its partnership with pop group One Direction for a campaign that kicks off next month.

The pop stars will be featured on the packaging for kids' brands Ritz Bits Sandwiches, Mini Oreo and Mini Chips Ahoy! Snak Paks, with design by Pigeon Branding and Design. The band made an on-pack appearance last year, but this time around, the brand has orchestrated a "pack takeover," says Aditi Burman, senior manager, consumer promotions, Mondelez, and the group can be seen more prominently.

Burman says she expects the pack takeover to receive immediate attention from the brand's target – "the mom who's buying for her tween daughter or son who loves One Direction."

The packaging and supporting in-store material such as merchandisers, which hold product, and standees, promote a contest to win a VIP experience with One Direction. The four grand prizes comprise tickets to the band's sold-out Toronto show in August, a meet and greet with One Direction, hotel and travel accommodations and $1,000 spending cash. Secondary swag gift prizes are also up for grabs. Christie is the official sponsor for the band's North American tour.

Mondelez has leveraged a One Direction contest in the past, but new this year is the opportunity to meet the band itself, says Burman.

The brand worked with MacLaren Momentum as its promotion agency and Poprint Services for merchandising.

The campaign launches May 5 at major retailers across Canada such as Metro, Loblaws and Sobeys. But Mondelez is also gearing up for a Walmart-specific activation June 5 to 8.

A new element this year is a poster featuring the band and contest messaging sized to fit in a school locker, says Sylvia Gurliaccio, shopper marketing manager, Mondelez.

The activation will also include sampling, which fits well for the summer with camp season and the need to pack lunches, as well as a large standee cut-out of the band, says Gurliaccio.

"It's a photo op for the tweens and teenagers to take a picture with the standee and post it on their social media just to create that buzz," she adds.

Mondelez was the title sponsor for the band's North American tour last year, and it received 130,000 content entries and 56 million media impressions.

Burman says the brand was quick to partner with One Direction again this year after learning its American counterparts were working with the band again.