Samsung's #TrendingNow
The Galaxy S5 and Gear wearables have arrived in Canada, along with what the brand hopes is a share-worthy campaign.
On April 11, at precisely 11:11 am, Samsung sampled its brand new Galaxy S5 and Gear wearables to 150 Vancouver locals, who stood in line to be a part of the brand's global 24-hour "S Carpet" tour and "be the first" (which plays on the date and timing of the event) to try the tech out for size. Canada was the very last stop on the world tour, but from here on out, until the end of May, all pieces of the marketing campaign in Canada for the launch of the devices will be Canadian-led, says Samsung Canada's CMO Mark Childs.
The campaign is slowly trickling into market, having soft-launched with an experiential event at the Habs game in Montreal last week, and another three set to take place in Whistler, Toronto and Calgary in the coming months, while digital and social components will roll out this week and next. Cheil Canada is behind the creative, with Starcom MediaVest working in conjunction with the team on the media, while North Strategic is handling PR.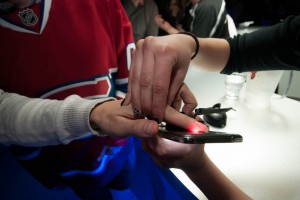 The experiential events, led by Mosaic, target "young-minded mobile millennials" and take place at sporting events, like the hockey game in the French city, a skiing and snowboarding festival in Whistler, a HoopDome conference as part of an NBA partnership in Toronto and a wake-boarding event in Calgary. The four launch events aim to bring the features such as the Gear Fit's heart-rate sensor capabilities and the GS5′s auto-focus camera function to life through product trials at sporting events where the energy is high and the moments to capture are plenty.

"We're really bringing drama and connection to our millennial consumer. We're hoping to create a visual illustration that's a shareable experience and that's connected to #TrendingNow," says Childs, noting the idea for the campaign is to drive fans to share their experiences with the devices on social media to essentially have them #TrendingNow.

Creative for long- and short-form videos was shot last week, and is slated to roll out online and on mobile, where the target audience lives and breathes, in the next few weeks, adds Childs.

"This campaign is anchored in the opportunity for the phone and Gear to be connected to the social lives of our audience," he adds. "It's anchored in the currency of social media and as such, the plan is almost exclusively digital and experiential-based, and at the front and centre, it highlights innovative features that I would describe as social by design."