Cause + Action overall winner: McDonald's home is where the heart is
Find out what made the QSR's cause campaign rise to the top.
Inspiration
For the past 33 years, Ronald McDonald House Charities Canada (RMHC) has welcomed families who have a child in the hospital by providing them with affordable accommodations and a supportive environment. The program places families into a House within close proximity to a hospital, especially beneficial for families from out of town (as many smaller cities don't have dedicated children's hospitals) or unable to make the lengthy commute each day. The need to travel far from home to access specialized care is growing, as is the demand for the services, the latter due to advancements in medical treatments, where more children are being treated, but over longer periods of time.
The total number of bedrooms at the Houses has increased to 398 from 268 and the need is projected to rise to 538 by 2017.
Strategy
Research in 2011 indicated that while 94% of Canadians are strongly aware of RMHC, 32% of people don't understand what the organization actually does. So to help educate people about its mission, and subsequently increase donations to expand its footprint, McDonald's launched a campaign that put people in the shoes of those who use the Ronald McDonald Houses.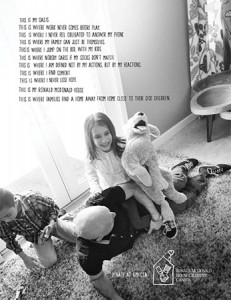 Execution

Working with agency Cossette, the campaign included creative on TV, cinema, print, radio, OOH and tray liners in McDonald's restaurants that showcased RMHC with a series of snapshot views that captured everyday family moments of those living in the Houses.

Creative showed how the Ronald McDonald Houses provide a sanctuary at a time when families' lives have been turned upside down. The stories were told through the lens of each family member: mom, dad and child.
By putting themselves in the mindset of these families, viewers were able to empathize with those who are affected and understand the services they require to be near their loved ones.

Results
The campaign was attributed to a 59% lift in understanding of what RMHC does for families, as well as a 72% lift in donations to help expand the House network and create more bedrooms for families in need. The campaign received coverage in 135 media outlets, as well as $4 million worth of donated media,
which helped generate almost 13 million impressions.

 Judges' comments

"[McDonald's] utilizes a powerful emotional appeal against a clear strategy to drive an outstanding result for a great cause. I'm lovin' it." – Geoff Craig, Heart and Stroke Foundation

"This campaign struck a chord with me. With a specific, relevant and important cause, it was [persuasive] in its honesty, highlighting real families whose lives have been touched. [It] was effective in leveraging multiple marketing channels with a clear and honest message." – Melanie Agopian, Loblaw

"Real moments. Real families. McDonald's strong broadcast and print campaign exceeds all others in illuminating genuine care and driving tremendous meaning to the brand." – Laurie Simmonds, Green Living Enterprises