Carte Blanche winners revealed
Creatives at Toronto's Sid Lee and Montreal's Lg2 wowed the judges with their fun and frosty campaigns.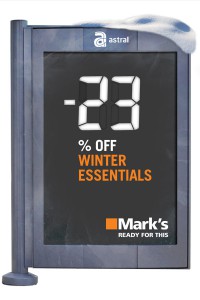 And the winner goes to… two optimistic creatives at Sid Lee who have figured out how to turn Canada's frigid winter curse into a blessing. Art director Barbato Martiniello and copywriter Emma Quiroz at the agency won the 2014 Grand Prize (for Toronto) at last night's Carte Blanche for Creatives competition.
The out-of-home piece, which was submitted in late Feb, along with another 224 original pieces from Toronto, Montreal and Vancouver creatives, was created for clothing brand Mark's and included a real-time thermometer that not only revealed the temperature outside, but also copy that stated the brand would discount customers the same percentage on its winter essentials.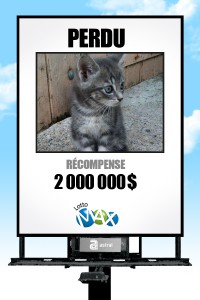 The winners for the Montreal Vertical Poster edition were also recently announced on Tuesday, with Martin Baron, AD and Marie-Eve Leclerc-Dion, copywriter at Lg2 taking home the top prize for their Lotto Max entry, which simply showed an image of a cute kitten with the word "perdu" (or, lost) and a $2,000,000 reward for its finder.

And for having won the top prize, both teams will be flying to France this year to attend the Cannes Lions festival, while clients Mark's and Lotto Max will be given a free campaign on the Astral Out-of-Home Street Furniture network in Toronto and Montreal.

Next week, on May 8, the winners for the Vancouver competition will be revealed.