Montreal's Quartier des spectacles' dotty play
Lg2 rolls out a campaign to remind people where the entertainment is happening.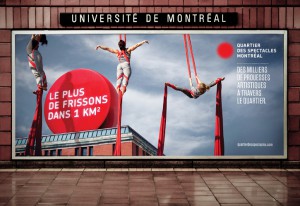 How much emotion can be contained within the area of a square kilometre?
A new communications platform by Lg2 for Montreal's Quartier des spectacles is pushing the message that it's the city's most concentrated district of culture – the square kilometre with the most emotion.
It is supported by a campaign, which began to roll out last week and with media by Espace M, comprising TV, OOH, online, advertising on La Presse+ and a new website, which automatically updates with the district's current events, and also features an interactive map, and editorial and social content.
"There's a lot of everything, from interactive to print collateral material, and I think it's probably the first time that every touchpoint of Quartier des spectacles is really linked together in its creative [identity]," says Claude Auchu, partner, VP, CD, design, Lg2.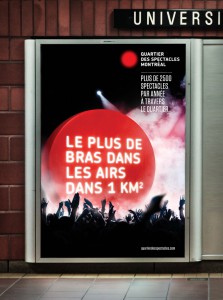 Located downtown, the Quartier des spectacles plays host to more than 100 shows monthly, along with festivals and events, while comprising about 40 performance halls and bar venues, another roughly 40 exhibition spaces, eight facades with architectural projections and public spaces, according to its website.

Despite all these happenings, the Quartier and its role in these events wasn't garnering the attention it should have, says Auchu. As such, the strategy was to ensure the Quartier was attributed to each of the area's events. Compounding this, is the fact that people often don't know exactly where the Quartier is located and it is also larger than they might think, he adds.

Part of the strategy entailed physically marking the area to ensure people realize they are in a significant cultural destination in the city, says Auchu.

A large structure with the new messaging was placed on site, and future plans entail branding existing, on-site street furniture.

Maps of the area (with breakdowns by category such as performance halls and exhibition spaces) are featured within different aspects of the execution including the website and in the TV spots, which feature red dots popping up on maps to identify the opportunities, while people discuss which to pursue. The red dots represent the brand's logo and are featured in other aspects of the campaign.

Developing the commercials presented a challenge, as the budget did not allow for actors, and there wasn't any footage from the Quartier des spectacles available to use, says Auchu.

"We worked with 15-second- TV spots showing, I think, the idea of everything you can do at one place," he says. "And I think it's a good achievement because we were able to lock everything together with a cost-effective TV campaign."

Similarly, OOH ties in the brand's identity to ensure it is recognizable with the red dot logo, along with the messaging of finding every cultural possibility within that square kilometre, depicted through images of people clapping or shouting, for instance, Auchu says.