Reitmans finds its muse
With PR events in Toronto and Montreal, the brand is launching its new collection by model Eve Salvail.
Reitmans is launching its collaborative T-shirt collection with celeb Eve Salvail this week with a PR push in Toronto and Montreal.
The Reitmans Tee Collection by Eve Salvail comprises four T-shirts with two prints, designed by Salvail, a model and celebrity DJ known for being Jean Paul Gautier's muse in the '90s. Proceeds from sales go to the Canadian Breast Cancer Foundation.
The collaboration with the well-known, high-fashion model was a way for the brand to borrow the creativity of an icon, says Lindsay Mattick, VP, creative and strategy, Narrative PR, which worked on the launch.
"In the fashion space, we're seeing more affordably-priced brands partnering, whether it's designers or celebrities, to create collaborations that I think take the brand to a different level."
Working with Narrative PR, a media dinner will be held in-store in Toronto on Wednesday, during which Salvail will speak to those in attendance about what inspired her and where the funds will go, says Mattick.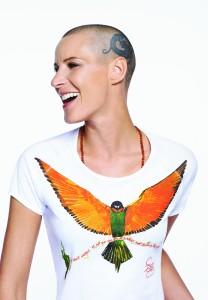 The brand wanted fashion editors to gather in-store to be able see the T-shirts and the rest of the spring/summer collection, says Marianne Thornton, content and communication manager, Reitmans.

A similar event will be held in Montreal the day before, and Salvail will also appear on Canada AM and Cityline, and meet with bloggers at another event.

This is the first time Reitmans has developed such a collection to support the foundation. In the past, its tee collection was more basic, so the strategy was to liven up the pieces, bring in a spokesperson and allow consumers to contribute to the cause, says Thornton.

The collection will be available for purchase May 8, with online pre-sales May 7.