P.K. Subban is having quite a year – and not just because he's helping to lead the Montreal Canadiens in their attempts to pick up a Stanley Cup.
Coming on the heels of his recent TV partnership with Degree, Subban lent his name to Boston Pizza for its latest campaign, with giant billboards that say "P.K. hearts Boston." A few days later, the ad was changed to read "P.K. hearts Boston Pizza." The restaurant chain worked with Montreal-based shop Zip and Touche! for creative and media, respectively.
The brand began working with the sports star well before the Canadiens were set to play the Bruins, says Steve Silverstone, EVP marketing at Boston Pizza, and it was a happy outcome that the first Stanley Cup playoff match would pit Subban against the Boston team.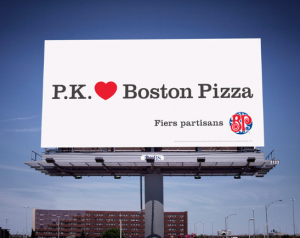 The brand is also continuing its tradition of temporarily switching its name in favour of the host city when playing against the Bruins. In 2011, Boston Pizza renamed itself Montreal Pizza, in 2012 it took the moniker Vancouver Pizza and this year it will once again be Montreal Pizza.
New store signage is rolling out across the city, Silverstone says, while OOH, digital and banner ads will feature the "P.K. hearts" messaging.
The campaign is targeted at sports lovers and will run for the next two weeks (the end date of the series, which is currently tied 1-1). Should Montreal come out on top, Silverstone says the brand has no plans to follow up the campaign for the next team it plays, saying "If we [Montreal] win, we've done our jobs."
Subban has recently been in a media hailstorm after winning a game against Boston, prompting Bruins fans to take to Twitter and make racists remarks about the hockey player. The campaign details were in place before the controversy erupted, Silverstone says, and they didn't feel the need to change the campaign.
Subban is the brand's Quebec spokesman, and is also promoting the new pizza offerings at the chain.