Near-holographic android
Want to use the latest tech but don't have the budget to fund it? Take inspiration from this futuristic experience done on the cheap.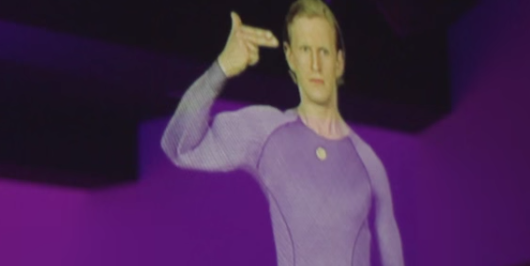 Tupac almost broke Twitter once. That's a pretty big feat for someone who's no longer with us. But that's the magic of technology, specifically, the magic of holograms, which is what brought him back to life in 2012 when he "performed" at Coachella.
Holograms cause social media frenzies, though they're also highly-expensive. That is until television network UKTV and its agency U.K.-based Joint figured out how to do it on the cheap, while still being able to cash in on social media.
In a London storefront, a handsome hologram-esque "android" spent the day as a puppet, with pedestrians tweeting instructions for him to do the macarana, break dance, be a human, kill himself, take off his shirt, and more. He may have looked like a hologram, but the stunt was actually of an actor being filmed and edited from a remote location in real-time. And to make it seem futuristic, the agency projected the footage onto a see-through mesh material. The stunt was to promote series Almost Human, which seems fitting since the tech was not quite, but almost holographic.
Via Stimulant.