Lucidia picks up a Toronto digital agency
The Sault Ste. Marie shop has fully acquired digital agency Salt & Pepper.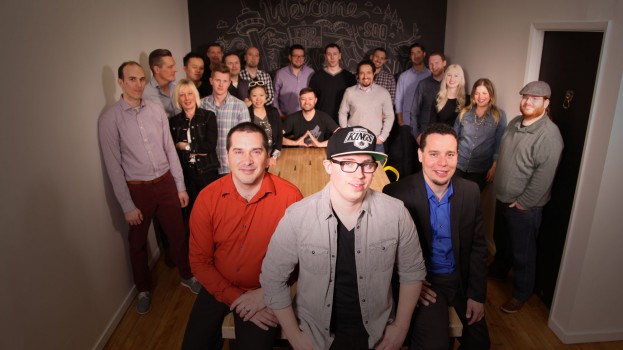 It started off as two agency presidents from Sault Ste. Marie going for lunch and ended in a marriage of their shops.

Sault Ste. Marie-based Lucidia has acquired Toronto digital shop Salt & Pepper, resulting in a team of 35 between the two offices, including 11 in-house creatives. The new agency will be known as Lucidia.

Lucidia president JR Pierman and VP, IT and application development, Marty Wright assume ownership of Salt & Pepper while S&P's former partners become part of the leadership team. S&P's president and partner Blake Armstrong is now director, strategy and planning, responsible for the combined teams, while Kris Ryken, former partner and CTO, will report to Wright.

Salt & Pepper's founder and CCO Joe Paonessa will be leaving the agency to pursue new ventures, including overseeing the launch of a digital content publishing application called Magalive, the agency says.

Pierman says his company forecasts revenue for the combined entity's first 12 months at around $7 million, with $5.5 million in fees.

The deal started coming together when Pierman, a native of Sault Ste. Marie, heard about "a guy [Armstrong] from just outside of Sault Ste. Marie being part of another agency in Toronto."

The two went for lunch last October and Pierman says there was an immediate personal and also business connection.

"I don't think we went into the meeting thinking this is going to be a coming together of two agencies," he says. "Probably in the back of my head I thought it was a possibility, but it came more by chance, finding someone with a like personality and like mindset."

Likening the process to dating, he says the pair spent a lot of time together between October and April getting to know each other and introducing their partners, making sure it was a fit both for the business, but more importantly, the culture of the two agencies.

Lucidia has had a presence in Toronto since 2010, where the majority of its revenue stream comes from, working out of a building in Liberty Village, but with the merger, is now completing a move into Salt & Pepper's space around Richmond Street and Spadina Avenue.

Pierman says two-thirds of the agency's business is digital with one-third focusing on traditional advertising.

Aside from Paonessa, a few people have left the agency due to restructuring, Pierman says, but the shop is planning to hire four people in the areas of design, accounts and administration.

The agency already counted PGA of Canada and Ontario Tourism among its clients, along with global hospitality brands Fairmont, Raffles and Swissôtel, as well as finance sector organizations including Meridian, Community First and DUCA credit unions. Salt & Pepper's clients included Nickelodeon, Marc Angelo Foods and Le Chateau.

The company says the merger allows it to blend Lucidia's social media content development abilities with Salt & Pepper's community management, social tracking and ROI measurement services.

Pierman says it will be business as usual for the agency's clients – sort of.

"We have teams in place but at the same time, for a number of their former clients we can now offer a broader range of services and some of our clients have expressed interest in the social media side of things," Pierman says.

View a video the agencies created to announce the partnership.