TD named Canada's best brand: study
RBC, Scotia and Tim Hortons also topped the biennial Interbrand study, while former heavyweight Blackberry dropped off.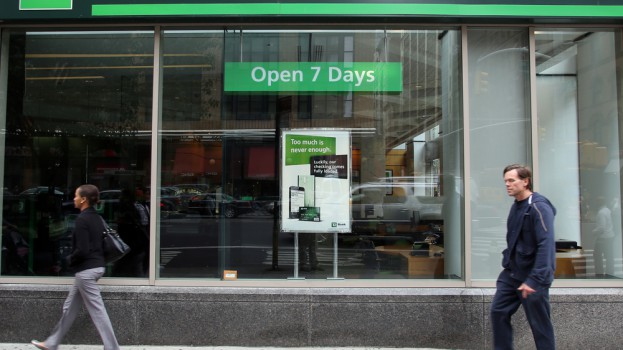 TD Canada has once again topped Interbrand's Best Canadian Brands 2014 study.
The study, which comes out every two years, measures across three factors based on Interbrand proprietary methods, including a financial analysis, role of the brand (i.e. its influence on purchase behaviour) and brand strength (i.e. the measurement of brand loyalty).
TD topped the list back in 2012, and again this year because of its "well-established creative theme." RBC came in second (up from third in 2012), while Scotiabank came in fourth (up from fifth in 2012) as a result of its "Richness is" campaign. BMO and CIBC came in 11th and 12th, respectively.
Tim Hortons came in at fifth place (up from sixth in 2012), as a result of a 27% share of QSR transactions across Canada, according to the report.
There was no major shakeup or position jumps on this year's list, as many brands shifted one or two spots ahead or behind from previous years. The biggest movers and shakers were in the telcom space, with Bell, Telus and Shaw each jumping three spots to sixth, 10th and 17th place, respectively, while Rogers moved up two spots to eighth.
New entrants include Dollarama which came in at 15th place for "breaking virtually all of the established retail rules," the study found, such as no advertising, no sales, no promotions, no coupons or loyalty programs, and creating a practical, straightforward, value-driven experience.
WestJet, CP Rail and Cineplex also joined the lists in the 20th, 21st and 24th spots, respectively.
To make way for these new entrants, a number of companies dropped off Interbrand's list. Unsurprisingly, Blackberry, which previously held fourth place, is nowhere to be seen on this year's list. Bombardier (16th spot in 2012), Sun Life Financial (17th) and Future Shop (24) also didn't make the cut.
Because the study only measures public brands, many Canadian companies were left off the consideration list, the report found. It does, however, name Four Seasons Hotels and Resorts, McCain Foods and Aldo as top brands.
Check out the complete lineup here.
Image via Shutterstock.