L'Oreal hones in on a one-on-one approach with shoppers
The beauty brand's new CMO Stephane Berube discusses why big data is key in the age of consumers without borders, and which emerging target demos are on the co's radar.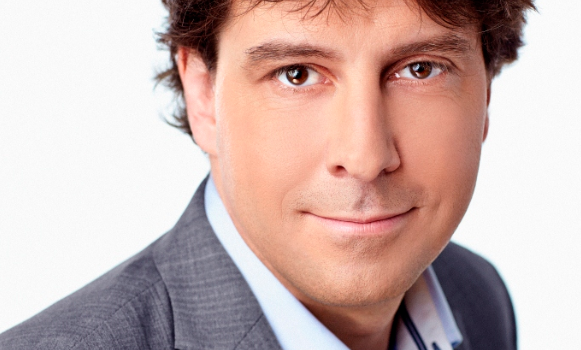 Last month, L'Oréal Canada switched up its marketing brass, bringing in Stéphane Bérubé to take on the post of CMO, formerly held by Marie-Josee Lamothe, who joined Google. With over a decade of experience with the cosmetics co, starting off as marketing director for Maybelline New York and most recently general manager of media and innovation for L'Oréal Canada, Bérubé is credited with initiating the company's partnership with TIFF, which includes a dedicated festival collection and content from the red carpet.

Bérubé caught up with strategy to discuss his vision to build a highly personal relationship with the new, "borderless" Canadian consumer, three booming markets in the beauty and cosmetics space and which trends he expects to continue.

What are some key areas that you'd like the marketing department to focus on?

We have done a great job in terms of developing our digital expertise, especially related to e-comm. We are one of the leading countries in e-commerce for the Group L'Oréal worldwide [not all L'Oréal divisions have this capability]. The Canadian team was able to develop a platform for e-comm for consumers to buy some of the L'Oréal  brands and L'Oréal Canada is managing some of the L'Oréal U.S. e-comm business [such as for the Biothem brand].

The next step to this is we have a ton of data that is coming from everywhere and I think the opportunity is, what are we doing with all of the data we receive – from either the social, CRM or e-commerce platform? The consumer is talking to us and we have to listen to them, and we have to start interacting with them much more.

One of my key [goals] that I want to achieve over the next year is a CRM platform for the L'Oreal Group where we develop a one-on-one relationship with each consumer. When a consumer shops at a Kiehl's store, they can have a discussion, such as, "You used this product last time, do you like it? What about this?" It's personal services from every angle – in a hair salon, in a Kiehl's store, at a Lancôme counter. Or even [with] the more mass brands like L'Oréal Paris or Maybelline or Garnier, the idea would be that the consumer can be recognized [perhaps] in a digital space and we can customize services, content and ultimately, the product and the purchase. With the era of smart data, there's a lot of data available to be able to do it, it's just a matter now of organizing it, and being smart about it.

What has L'Oréal been doing to better facilitate the path to purchase? 

We are now testing a few things, in terms of geo-targeting, to get to know where the consumers shop and how we can better answer their needs. The second thing, which is more traditional, is making sure that we have the right product offering. In a store in Vancouver, you must have product that will meet the needs of Chinese people, which is not necessarily the case in Winnipeg. We went from having standard planograms (how the shelving is organized) to have more tailor-made planograms and product offering depending on the population. That's one thing we have started that we need to continue doing.

How has L'Oréal been able to really differentiate itself in the cosmetics space?

We tend to be first to market. We like to try stuff and we're not afraid, with the entrepreneurial spirit we have, to go first into new adventures and testing. L'Oréal was the first one in Canada to do a reality show. We were the first ones to sponsor Canadian Idol, and we were the first ones to sponsor Star Académie for the Quebec market. Now there's the Bollywood Star [a docu-series capturing the audition process for Bollywood movie star hopefuls] that Rogers is launching and again, we were the first ones to [get on board]. The concept is that they audition with South Asian Canadians to play into a reality show. We're not afraid of taking a risk, we're not afraid of trying new stuff and we like to be the first one to do things.

The second thing, I would say, is we leverage our network around the world. It's one of the L'Oréal values. We're trying to take best practices from every country, and what it means is that we're not trying to repeat and search and reapply only. We're taking what's been done somewhere else that was successful and we're just trying to make it even better in our country.

L'Oréal has invested a lot in consumer and product research. [One recent example] is we've done a lot of ethnographic research about the South Asian consumer, the Chinese consumer and the baby boomers, which are three markets that are booming in terms of growth and also in terms of buying power. A woman who is wearing mascara now and was working will probably change her routine when she is retired. On the other hand, she has more time to pamper herself, she has more money. How do we tap into this market to make sure that we don't consider that her needs are the same when she was working?

We have products available right now on most of our brands that are targeted to the three segments. However, I believe that it's not a full range and the availability is still limited. This is something I think we need to focus on. The different needs of the South Asian, the Chinese and the aging population require specific products. These products are available in the Group L'Oréal worldwide. We have some here but there is a potential to – one, have more offering, and two, to better target. There are cities that 27% of the population is South Asian. When you think about Vancouver and the Chinese population – I think there is a huge opportunity for us to make more noise about it and better target these consumers because awareness of our products of our brands among these people are not at the level that we would like.

What are the biggest challenges facing the beauty and cosmetics space today?

There is no border anymore. There's no Canadian consumer anymore. A consumer goes on the web, he or she has access to pretty much every product around the world and they can get it shipped to their house in a week or so. Same thing with product information – it's not like the old days where the only thing they were seeing is a Canadian ad on Canadian shows.

For me the big challenge is, how do we keep the relationship with our Canadian consumer when she's exposed to all this information that she can have access to? That's why big data management is so important and that's also why we need to focus on developing this personal relation with our consumers.

How do you see the beauty and cosmetics space changing in the next five to 10 years?

If you look at what's happening now, there's a lot of niche brands that are popping up everywhere and I think the trend will continue because consumers are more and more demanding about their needs and again, much more knowledgeable. I believe that in the beauty market, we will see more small niche brands coming up and strong niche brands becoming, maybe, bigger and bigger. But on the other end, I think the market will be even more segmented than it's ever been before.

With the population that is getting older in Canada, you're going to have brands that will be more specific to some targets. For me, I think the number of brands will just keep increasing. It's the same thing with the retailers – if you think about 10 years ago, the landscape was very different. Now product availabilities – it's crazy. Think about Sephora that did not even exist in Canada 10 years ago. Now it's very strong in our business. Think about 15 years ago, luxury brands were not necessarily in chains like Shoppers Drug Mart; now they are. Also, the mass brands were not very present in food chains, but now they are very present.

I think the landscape is changing in terms of the brand offering, product offering and the specialization of the product, but also in terms of the distribution of the product. That's the name of the game now – to have the right product at the right time in front of the consumer. And it can be done through digital or in-store.

This interview has been edited and condensed for length and clarity.