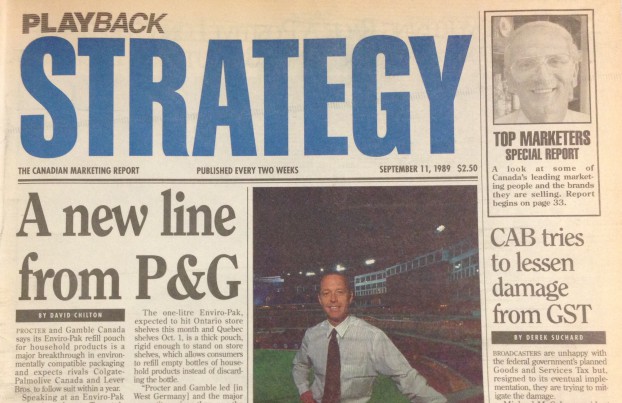 For strategy's 25th anniversary, we're travelling back through time, flipping through the pages of old issues to highlight some big news you may have forgotten, trends you wish you'd had a crystal ball to predict and marketing issues that never seem to change. Check back weekly for the next 25 weeks (that's a year a week!) to pick up some valuable insights into Canadian marketing history.
Perhaps they had a crystal ball?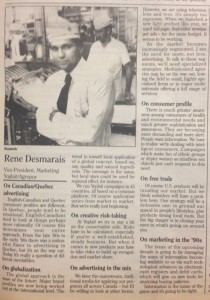 Charting a course for Canadian marketing Sept 11, 1989
In this feature we asked marketing leaders from Labatt, Yoplait, Pillsbury, American Express, Sunquest and more on major trends to come in the 1990s.
"The issue of the upcoming decade is going to be managing the mass of information becoming available to us via such technological advances as electronic cash registers and debit cards, which will give us new tools for analyzing buying patterns," said René Desmarais, VP marketing, Yoplait. If only he knew how much information there would be to manage….
"The home shopping element. I don't know how big that'll get in the '90s, but it's all part of that 'I don't have time to shop, so make it easier for me to do it somehow," said, Bryan Black, VP marketing, Black Photo Corp. Perhaps he saw the onslaught of Amazon back then?
Other big trends we highlighted: video or video/text marketing's disruptive effect on ads, globalization (consumers will be exposed to ads from around the world, many said) and the environment were the biggest issues that would likely emerge in the '90s.
The topic on everyone's lips 
The environment was all the rage as we head into 1990, if our headlines are to be believed.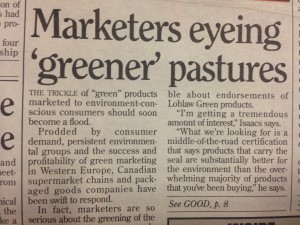 Marketers eyeing "greener" pastures Sept. 25, 1989
"The trickle of 'green' products marketed to environment-conscious consumers could soon become a flood," we wrote.
That year, P&G unveiled a new "enviro-pak" packaging, allowing customers to refill containers, packaging design competitions PAC-EX started dishing out bonus points for environmentally-friendly designs, Loblaws staked a claim in the colour green with a new eco-line, while McDonald's launched a recycling program – and that's just the tip of the iceberg.
The more things change, the more they stay the same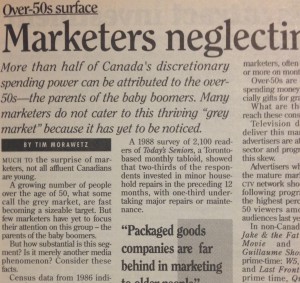 Today, we often talk about how seniors are a forgotten opportunity with marketers, who hyper-focus in on millennials. But while millennials were still in nappies, boomers and Gen X were the beloved target, leading to calls from the industry that marketers were ignoring an important target: the seniors.
Marketers neglecting a growing target Sept. 25, 1989
"More than half of Canada's discretionary spending power can be attributed to the over-50s – the parents of the baby boomers. Many marketers do not cater to this thriving 'grey market' because it has yet to be noticed."
Over-50 consumers neglected Nov. 20, 1989
"Although many companies pay lip service to the need to market to Canada's seniors, few consider these consumers in research of advertising, a just-released study shows." The study found people over the age of 50 were consulted in less than 5% of market research studies and targeted in less than 5% of ads, despite contributing to 40% of Canada's GDP.
Top headlines of the year
In 1989, we only operated for half a year, so forgive us if we missed some of the top headlines at the close of the '80s. Some that caught our attention: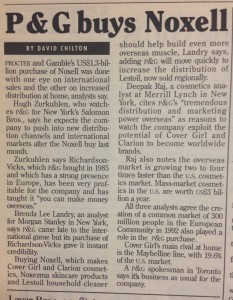 P&G buys Noxell Oct. 9, 1989
The international purchase of Noxell gave P&G one of its biggest lines today, Cover Girl, as well as Clarion and Noxzema. It also forced MacLaren: Lintas to resign its account of Noxell's business, since at the time the Toronto agency also represented Lever Brothers. Leo Burnett and Grey would pick up the account in February 1990.
Palmer Jarvis, Grey O'Rourke Sussman set to merge Oct. 9, 1989
"In an effort to establish a bigger presence in Toronto, Advertising agencies Palmer Jarvis and Gray O'Rourke Sussman are working towards a merger of their two companies." The merger died when O'Rourke closed up shop in March 1990, while PJ shuttered its Toronto office around the same time.
Carder Gray to merge with DDB Needham Nov. 20, 1989

Promising to create a "new advertising force in Canada," Carder Gray Advertising of Toronto says it has agreed to merge with the Toronto office of DDB Needham Worldwide Advertising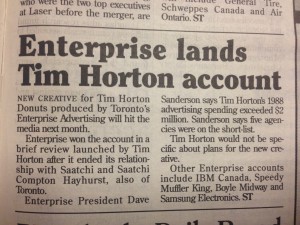 Enterprise lands Tim Horton account Dec. 18 1989
"Enterprise won the account in a brief review launched by Tim Horton after it ended its relationship with Saatchi and Saatchi Compton Hayhurst." This relationship would stick it out until today and help propel Tim Hortons to be one of Canada's most beloved brands.
Creative report card
Finally, because everyone loves lists, take a gander at the top creative agencies, brands and creatives who graced strategy's annual Creative Report Card. See if you can spot any names still playing big today.