Zulu Alpha Kilo's trophy takes flight
For this year's Agency of the Year, top-ranked shops will have a cool new trophy for their shelves.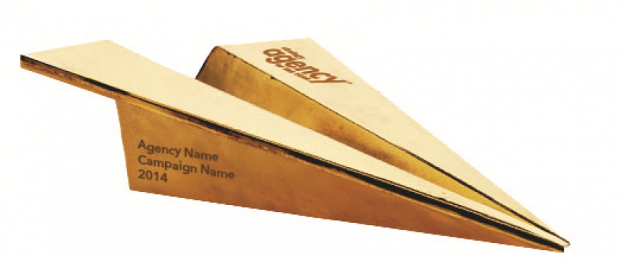 In February, we put out a call for designs and now, a new trophy for strategy's Agency of the Year awards has been chosen. Of the 25-plus design proposals (of which some included two, three, sometimes four sketches), Zulu Alpha Kilo's paper plane award won the hearts of our team, receiving a near-unanimous vote after much discussion and deliberation. The award, which may not be an exact replica of the design (but as close as we can get it), will become a permanent fixture on agency mantles after the AOY award show in October this year.
Below are our top three picks, and though they're not showcased here, several had a patriotic Canadian theme (think buck-toothed water critters and glutinous maple syrup), which got some rather emphatic responses from our internal jury.
Winner (main image): Zulu Alpha Kilo
Inspiration: "With a subtle hint of whimsy, this design represents the countless thoughts and ideas that inevitably die or take flight in order to achieve the calibre of work required to win Agency of the Year."
Runner-up: Aldo Cundari, CEO, Cundari
Inspiration: "My design concept is based on what agencies and great brands do best – use their brain to solve puzzles that achieve mastery in the three core areas that are noticed by the industry and their peers – strategy, creative and execution."
Runner-up: Union
Inspiration: "This concept shows an upwards pointing arrow, a symbol for progress, profit and direction. The negative space created when it's placed inside a three-dimensional cuboid gives it a sturdy shape. The black matte metal gives the trophy sleekness. We ditched the conventional gold and silvers for neon colours to create a trophy that stands out."