TraffikGroup brings in new ECDs
MacLaren McCann's Cam Boyd and Troy McGuinness will join the exec team (pictured) at the Toronto shop.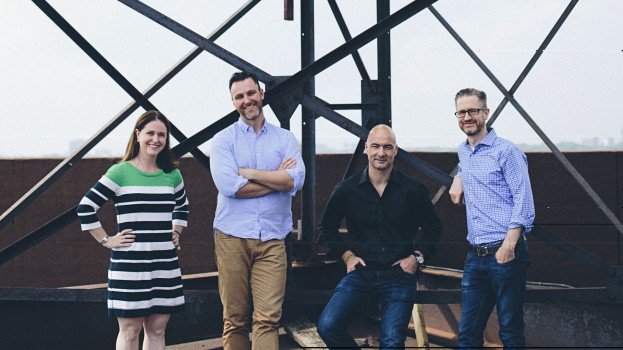 Creative partners Cam Boyd and Troy McGuinness are joining Toronto-based TraffikGroup as its new ECDs.

The pair's move from MacLaren McCann, where they both held the title of VP, group creative director, follows more than a year of discussions with agency president Mark Ferrier, who had first met Boyd and McGuinness while working on projects for Xbox. Their official first day will be June 23.

Ferrier says about a year and a half ago, his agency, which had been primarily doing below-the-line activations in the retail, digital and social space, made a decision to change its approach to creative. The shop has been making a transition with its creative team since then and was on the lookout for leadership that fit with the shop's philosophy, which is about offering creative that is both great, but also drives transactions.

Ferrier credits the change in approach with growing his agency's business 20% last year and a projected 20% this year, largely through expanded assignments with existing clients.

The addition of Boyd, a copywriter by trade, and McGuinness, an art director, both with diverse backgrounds in areas including digital, above-the-line and traditional, will boost the shop's offering, Ferrier says.

"We have the horsepower creatively now to consistently deliver the power of our ideas across our entire clients' business," he says.

"I think with our inclusion there, they are able to have a greater strength and answer a lot of the asks their clients are bringing to them," adds Boyd. "It will give them more ability to answer new business pitches."

The shop has also grown its strategic planning department from one person to five in the past year, led by managing director Adrianne Wotherspoon, who joined in March 2013.

Boyd and McGuinness, partners since their days at Taxi in the late 2000s, will work across TraffikGroup's clients, which include Xbox and drinks company Diageo, Ferrier says.

While at MacLaren McCann, the pair oversaw work for MasterCard, Lotto Max, GMC and Buick.

McGuinness and Boyd say they are leaving the shop on good terms.

"I think we were able to grow here and I think we're going to be growing even further in the next role," Boyd says. 

Photo, from left: Adrianne Wotherspoon, managing director, Boyd, Ferrier, McGuinness.