Perrier pops up a playground
Picking up on a hot European trend, the Nestle-owned brand is hoping to reach socially-active, urban trendsetters.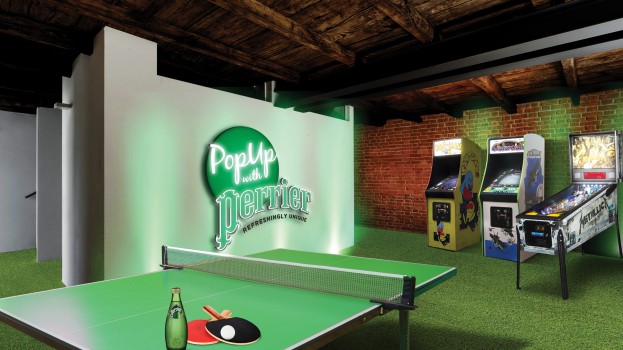 Tapping into an emerging European trend, Nestle's Perrier sparkling water is hosting a pop-up playground for adults next Wednesday and Thursday.
It's part of an experiential push from the water line, and taps into consumers bent towards nostalgia, says Jennifer Semley-Robert, marketing manager of the international brands at Nestle, which includes Perrier and San Pellegrino.
The pop-up, hosted on Toronto's hip West Queen West, targets influencers who've "already been to the latest clubs and restaurants," she says. Working with Toronto-based agency Community, Perrier hopes to tap into these socially-active, urban trendsetters, largely in the 25- to 40-year-old age range. It will travel to Montreal in July.
Inspiration for the execution comes from Europe, where grown-up playgrounds have been popping up in cities such as Milan, Paris and Amsterdam, complete with slides and giant bouncy floors, she says. "We thought this really resonated with the brand."
The playground itself will have various elements, including old-school arcade games such as Pacman and Pong, a fizz bar (which will serve Perrier-infused cocktails), and vintage Perrier artwork. It will be a "sea of green," she says, including AstroTurf and green bedecked wait staff.
To drive early RSVPs, the brand has gone out with a guerrilla campaign, including sampling and wild postings (with media by Zenithoptimedia) around Toronto's clubbing district.
It's already garnered some buzz internationally on the brand team, Semley-Robert says, and if successful, could see global pickup next year.
The goal of the playground is to show off the brand's whimsical and fun side and create novelty among the "in-the-know" consumer.