Throwback Thursday: strategy in 1992
For our 25th anniversary, we're travelling back in time. In 1992, McDonald's tried home delivery and Taxi got its start.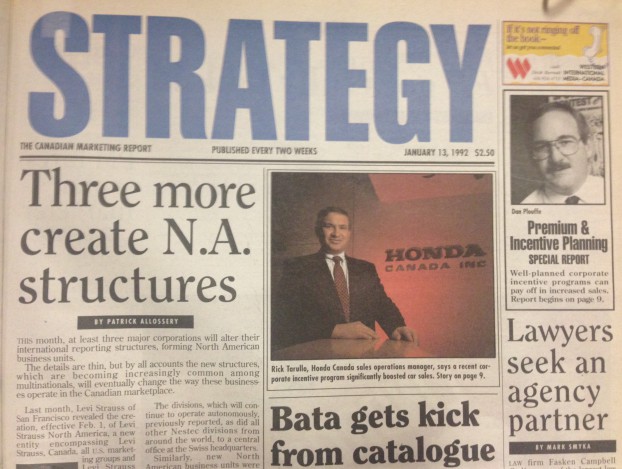 For strategy's 25th anniversary, we're travelling back through time, flipping through the pages of old issues to highlight some big news you may have forgotten, trends you wish you'd had a crystal ball to predict and marketing issues that never seem to change. Check back next Thursday to pick up some valuable insights into Canadian marketing history. This week, we tackle 1992.
Headlines worth highlighting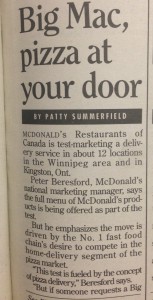 The emerging agency scene Feb. 10, 1992
"As if the autumn of 1991 was not wild enough with the collapse of Groupe Morrow and Leveille Vickers & Benson, merger-mania is transforming the Montreal as agency landscape profoundly and at a dizzying pace."
Big Mac, pizza at your door June 15, 1992
"McDonald's Restaraunts of Canada is test-marketing a delivery service in about 12 locations in the Winnipeg area and in Kingston, Ont."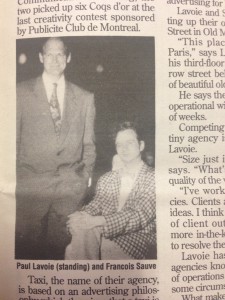 Dynamic duo goes it alone June 15, 1992
"One of the city's hottest creative teams has started its own shop, pitting themselves against savage competition and a comatose economy…
"Art Director Paul Lavoie, 36, and concepteur-writer Francois Sauve, 34, are probably the hottest creative duo in the city right now….
"Taxi, the name of their agency, is based on an advertising philosophy which theorizes that a taxi is the quickest way to get around (ie. solve a marketing problem)."
 CBC goes digital June 29, 1992
"CBC will begin digital radio transmission this fall, eliminating sound quality as an argument for not buying air time on the troubled medium.
"CBC will set up experimental digital radio transmitters in Montreal and Toronto on behalf of Canada's entire radio industry.
"A third CBC transmitter will be moved from city to city."
Trends on everyone's lips
Heat from south of the border
Positive feedback to merger Jan. 27, 1992
"Reaction from clients of both McKim Advertising and Baker Lovick/BBDO ranges from calm to enthusiastic in the wake of the blockbuster deal that could see two of Canada's oldest and biggest agencies marvel into one under 100% U.S. ownership."

The Americans are coming Feb. 10, 1992
"Canadian catalogue marketers are reeling under a sudden onslaught by aggressive U.S. competitors that have identified Canada as a potential growth area."
Yanks may get crack at gov't biz July 27, 1992
"Continental free trade could have far-reaching implications for federal government advertising in Canada, although there seems to be little fear among Canadian-owned agencies they will be trampled by U.S. giants wanting some of the action from the country's largest advertiser."
The changing retail landscape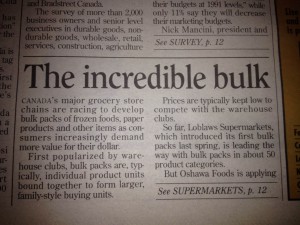 The incredible bulk Jan. 27, 1992
"Canada's major grocery store chains are racing to develop bulk packs of frozen foods, paper products and other items as consumers increasingly demand more value for their dollar…
"So far, Loblaws Supermarkets, which introduced its first bulk packs last spring, is leading the way with bulk packs in about  50 product categories."
Program points to greater profits Feb. 24, 1992
"The owners of a downtown Edmonton shopping mall say a 'North American first' in attracting and retaining customers appears to be working.
"Sandy McNair, vice-president of Toronto's Confederation Realty Services, which owns the Edmonton Eaton Centre, says the Customer Recognition Program, which he claims is the first database program to include more than one retailer in a shopping points scheme, helped boost sales in November by 18%, and 5% in December."
P&G pricing policy July 27, 1992
"Canadian supermarket chains are reacting cautiously to rumblings Procter & Gamble is preparing to introduce 'everyday-low-price' policy on some of its brands.
"Such a move would represent a sharp break with the traditional feature, or 'high-low' pricing strategies Canadian manufacturers and retailers have worked together on to develop over the course of several decades."
Imitation is the sincerest form of flattery
Labatt vs. Molson
We started seeing the bubbling of the beer wars back in 1990, but things really came to a head in '92.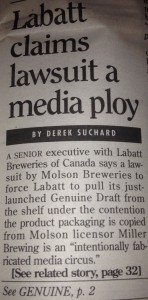 Labatt claims lawsuit a media ploy April 6, 1992
"A senior executive with Labatt Breweries of Canada says a lawsuit by Molson Breweries to force Labatt to pull its just-launched Genuine Draft from the shelf under the contention the product packaging is copied from Molson licensor Miller Brewing is an 'intentionally fabricated media circus.'"
More trouble is brewing May 4, 1992
"An application for an injunction by Molson Breweries and its U.S. licensor Miller Brewing to force Labatt Breweries of Canada to stop selling its Labatt Genuine Draft with its current advertising and packaging could proceed within two weeks, brewery spokespersons say."
Copy Cat fight June 15, 1992
"The battle for supremacy in the emerging 'cold-filtered' Canadian draft beer market has stoked a hot debate in the ad community over the fairness and effective of comparative advertising.
"The debate surrounds Molson Breweries' controversial short-lived 'La Copy Cat Contest' ad campaign, a play on rival Labatt Breweries of Canada's successful 'La Dry' advertising for its Labatt Dry…
"And although Molson ended its 'Copy Cat' advertising, which implied its Miller Genuine Draft was the original product, after Labatt applied to the Federal Court to have the campaign stopped, the two brewers are still locked in a court battle over Molson's charge Labatt copied its design and advertising."
Pepsi vs. Coke
The soft drink makers have always been bitter rivals. In 1992, Coca-Cola launched an imitation ad, forcing Pepsi's response.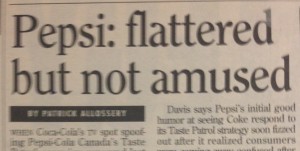 Pepsi: flattered but not amused June 29, 1992

"When Coca-Cola's TV spot spoofing Pepsi-Cola Canada's Taste Patrol campaign appeared last month, Pepsi's immediate response was to tell the world, via flurry of press releases, that it felt flattered by the attention."

Pepsi runs ad thanking Coke July 27, 1992

"Not content to let sleeping dogs lie, Pepsi-Cola Canada has taken a jab at rival Coca-Cola over that company's recent TV spot spoofing Pepsi's long-running Taste Patrol campaign.

"The July issue of Canadian Grocer carries a sarcastic Pepsi ad thanking Coke for acknowledging the 'success of our Taste Patrol advertising and marketing program.'"

Creative Report Card

Finally, because everyone loves lists, take a gander at the top creative agencies, brands and creatives who graced strategy's annual Creative Report Card. See if you can spot any names still playing big today. (Hint: we spot Zak Mroueh and Nancy Vonk on the lists.)

Want more strategy Throwback? Catch up on the headlines from 1989, 1990 and 1991.