Pure Leaf brews up tasting campaign
PepsiCo's new natural iced tea brand is setting up unique sampling environments across the country.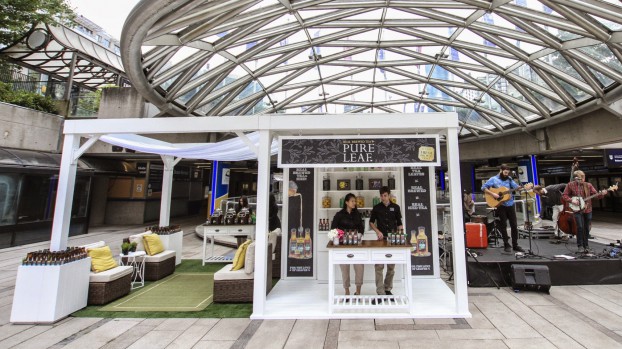 Launch efforts are underway for Pepsi's new natural brewed ice tea, as the brand aims to cross paths with its target consumer this summer.
Pure Leaf Real Brewed Tea, which hit full distribution late last month, touts a healthy position, differentiating it from Pepsi's traditional slate of carbonated drinks and their consumer base, says Jenn Gerynowicz, VP, client service, Match Marketing Group. Its bull's eye target is fondly referred to as "Liz," a 35-year-old, premium, but not too high-end consumer, who drinks Starbucks, shops at Banana Republic, farmers' markets and Whole Foods, is health-conscious, active and on the go.
Although the brand is aiming to create awareness, its main goal is for people to try the product and get hooked. But considering their Liz target, traditional sampling efforts were not in the cards.
"We didn't want to pull up in a van or a truck and start handing out mass samples and send people on their way with a coupon," explains Dave Bilton, VP, experiential marketing, Match Marketing Group. "It was really about what we internally called 'allowing Liz to savour the moment.' So we wanted her to stop and take a second to get engaged and to learn about the product."
Eschewing the term "sampling" in favour of a "tasting," the team aims to pique Liz's interest and create a different sort of experience through its gazebo-like environment, complete with furniture from stores at which she would shop, an awning and shelving with lemons, limes and mason jars, and a comfortable seating area where brand reps can engage with her.
Over 200 unique executions are slated to be held at events to reach the target, such as music and food festivals, markets, golf courses, with three different-sized environments to accommodate different locations.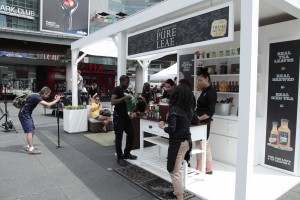 "We really are trying to be nimble and smart as to how we actually reach this consumer, while driving our sampling target which is over 400,00 this summer," says Bilton.

The first event was held over the May long weekend at Webers Hamburgers on Highway 11 north of Orillia to catch the target travelling to or from her cottage. Aiming for broader awareness, the product's official launch event was orchestrated alongside OMD and Praxis and held at Yonge-Dundas Square in Toronto and Robson Square in Vancouver on June 10 on National Iced Tea Day. About 3,500 tastings were served at the Toronto event, while both events included live bands (tested against the target consumer) and radio promotion.

The tasting also extends to the target's home, with a sample product given to e-tailer Beyond the Rack shoppers who meet the target criteria. A digital buy is also supporting the push, which includes homepage takeovers on The Weather Network, BlogTO and Vancity Buzz, plus banner ads on Toronto Life, Cottage Life, Glam, Huffington Post, among others, while foodie bloggers are being targeted as well.

As part of launch efforts, in-store activities are underway in major retailers such as Walmart, Target, Loblaws and Metro. Initiatives include strategically placing the product near things such as cooked chicken or in the produce section on stand-alone displayers which hold the shelf-stable, individual SKU. These displayers are also in Walmart's quick (maximum item amount) lines to reach the target on the go. The chilled product is also placed next to Pepsi's Tropicana to lean on the juice's popularity.

Pure Leaf looks at products such as coconut water more as competition than traditional iced tea because the latter is typically targeted to a younger, teen demo and is less health-sensitive, says Gerynowicz.