AOL amps up its content arsenal, programmatic and syndication
PwC projects annual online video ad spend to grow over 30%. Some of Canada's top media platforms explain why the dollars are following consumers online.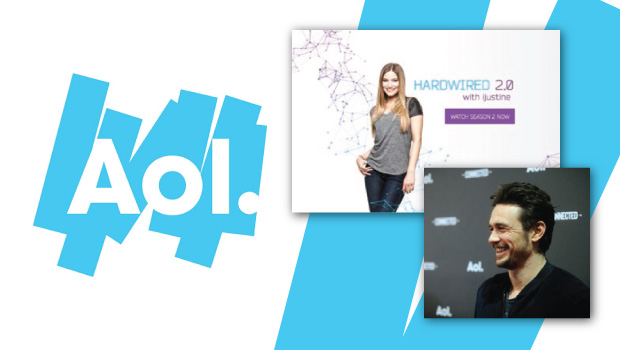 Although cat videos are still a big slice of the internet pie, the world of online video has exploded well beyond user-generated feline films, spawning a growing demand for quality programming.
As the audience expands and becomes accustomed to more sophisticated fare, AOL has been at the forefront of this revolution, working to provide quality content and value for advertisers.
Jon Hales, head of video sales for AOL Canada, says the focus has been on connecting all components of the online video environment, from content creation to programmatic buying and syndication. The result is AOL's premium video network, AOL On, home to some of the web's top streaming shows, and new programmatic and syndication platforms.
Fifteen original video series will launch this fall via AOL On at on.aol.ca as well as across AOL Premium properties such as The Huffington Post Canada, Parentdish.ca, Kitchen Daily Canada and StyleList Canada. Ten are new shows with some big names tied to them, including James Franco, Making a Scene; My Hero with Zoe Saldana; and Kevin Nealon with Laugh Lessons, which he coproduced with Ellen DeGeneres. The new roster joins several shows that premiered last year which did extremely well and are coming back for season two, most notably City Ballet with Sarah Jessica Parker and #Candidly Nicole starring Nicole Richie.
Hales says, "#Candidly Nicole did tremendously well in both Canada and the US. We'll be premiering our 20 new episodes online starting in the fall. The series has also been picked up for TV by VH1. One of the great things about the stars of the AOL Originals is their social footprint. For example, Nicole Richie drove 500,000 viewers to #Candidly Nicole simply by promoting episodes via her social network."
MAKERS, an original AOL multi-platform initiative will also be launched in Canada this fall. Based on the US program that launched two years ago, the Canadian version starts with 12 episodes that tell, discover, recognize and share the stories of trailblazing Canadian women.
GroupM has cut a deal to be the exclusive sponsor of the 2014 slate of 15 AOL Originals series, including MAKERS, giving clients of its Mindshare, Maxus, Mediacom and MEC agencies access to all the ad slots for the season.
On the programmatic side, late last year AOL purchased Adap.tv, the world's largest video ad platform. Adap.tv connects video buyers and sellers directly, allowing for full transparency, quality control and cost-efficient reach and scale.
Another of the trends AOL is involved in right now is branded video. Hales says clients are looking to the company to help create video content that complements their brand advertising, which AOL serves up through its new Be On syndication platform. "This is video that brings the brand into the conversation," says Hales. Be On embeds the brand content video, focusing on the topic and conversation the marketer wants their brand to be associated with.
Across the Be On platform, AOL has over 40,000 publishers in its network, and beyond branded video content, publishers will also do additional editorial around the video, for which the advertiser pays on a cost-per-view basis. Hales points out that Be On is a pull model in which viewers make the choice to engage with and watch the content. "This targeting breeds brand favourability, world-leading clickthrough rates as well as the ability to syndicate from multiple sources." Hales adds that Be On delivers "fantastic additional earned media opportunities when publishers push the video onto their social media platforms."
Profiles