Throwback Thursday: strategy in 1995
For our 25th anniversary, we're travelling through time. In '95, MacLaren McCann was born and smartphones became a possibility.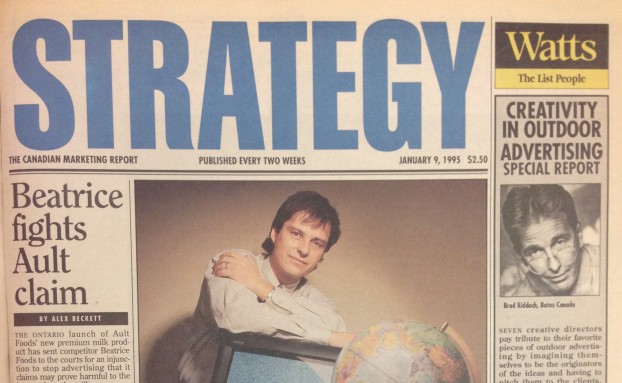 By Megan Haynes and Val Maloney
For strategy's 25th anniversary, we're travelling back in time, flipping through the pages of old issues to highlight some big news you may have forgotten, trends you wish you'd had a crystal ball to predict and marketing issues that never seem to change. Check back next Thursday to pick up some valuable insights into Canadian marketing history. This week, we tackle 1995.
Headlines you might remember
New era calls Feb. 6, 1995
"Later this year, Industry Canada is expected to give several companies the go-ahead to launch digital wireless personal communication services. If industry seers are correct, the introduction of the services could revolutionize telecommunication in Canada."
The expansion of the data spectrum would pave the way to do more than just wireless voice calls, we predicted, allowing telcos to broadcast data and "even permit high-demand services such as real-time video, e-mail, Internet access and global phone numbers."
This change would, of course, set the stage for the smartphone.
MacLaren, McCann merger a done deal May 1, 1995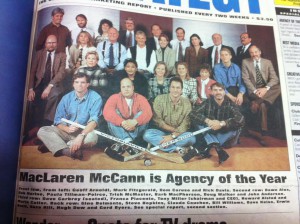 "With one bold strike that was surprisingly unimpaired by client conflicts, New York-based Interpublic Group of Companies has created Canada's second-largest ad agency by combining all the accounts, staff and management of the former MacLaren Lintas and McCann-Erickson Advertising." That year, the new shop also took the prize for Agency of the Year.
Bensimon Byrne gets sole Canadian Cannes prize July 10, 1995
A print ad from the agency for Curzon's Fitness Club took a Silver, the sole prize for Canada at the festival in 1995. Around 20 Canadians attended the event that year; by contrast 261 went to Cannes in 2014.
Starbucks stars in a Vancouver coffee craze May 15, 1995
"The now omni-present coffee chain launched its first Canadian locations out west near its Seattle headquarters, setting the bar for its multiple locations on one street by kitty cornering two Vancouver shops." It would go on to challenge Tim Hortons, Second Cup and Timothy's for coffee house supremacy.
The more things change…
Fundamental shift Feb. 6, 1995
"Mass marketing is on the wane, giving way to a new era in which advertisers will need to view their audiences as highly segmented rather than rather than homogeneous, says Jake McCall, president of Toronto research consultancy Second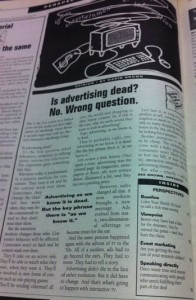 Sight."
Is advertising dead? No. Wrong question. July 24, 1995
"Darin Brown, account supervisor at Leo Burnett's Interactive Marketing Group on the influence things like 'videomail' and the role playing games would have on consumers, making the passive TV watching experience into a more active one."
Predicting the future
What happens after the revolution March 20, 1995
We asked media folks to weigh in on what media we could expect in 2005, having them come up with faux campaigns to evaluate.
Tom Batho, then VP group media director at McKim Media Group, predicted two-way TV, whereby people could request coupons or choose which TV ad they wanted to interact with, and said the Super Bowl would remain one of the few mass-reaching, non-paid televised events because video-on-demand would become prevalent. Fun fact: in 1995, a 30-second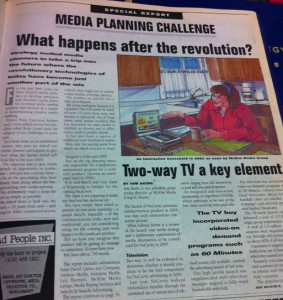 Super Bowl spot cost $35,000 in Canada and $1.1 million in the U.S.

David Cairns, president of David Cairns and Company, said national debt would grow to the point where the government couldn't sustain services, with costs of pension, health care and employment passed to the consumers. The country, he said, wouldn't be Anglo-Saxon/French, with schools starting to teach non-primary languages. He said technology would allow brands to speak to people on an individual basis, pulling information from a central database. Media, he said, would become ubiquitous, speaking to consumers everywhere they turn, while more than half of homes would regularly use the web for info, finances, shopping, sales and news.

Dental and health care would be available for sponsorship, while advertisers would no longer run 30-second spots or book ads in newspapers, but rather would create entertaining and delightful content that subtly sells products. Most would be based on virtual reality systems, with content linked directly to the consumer watching it. He was batting .500 by the end of his piece.

Read the thoughts of Bruce Baumann, then-VP and director of media services at Saatchi & Saatchi Advertising, Ruta Zibens, then-media supervisor at Leo Burnett, and Jeff Osborne, then-group VP at Media Buying Services.

Finally, because everyone loves lists, take a gander at the top creative agencies, brands and creatives who graced strategy's annual Creative Report Card. See if you can spot any names still playing big today. (We spy Chris Staples, Judy John, Karen Howe and more.)