General Mills cooks up new products
Nature Valley's first peanut-free bar in Canada and an upscale Old El Paso line are among its new offerings rolling out this summer.
Several new General Mills products are hitting the shelves of retailers this summer, including the Nature Valley brand's first foray into the peanut-free category in Canada.
Nature Valley Lunch Box is also the brand's first product targeted specifically at children, positioning itself as a suitable snack not just for school but other kid occasions. And while there are other peanut-free bars in the marketplace, the brand wanted to launch something  with no artificial flavours or colours and 20% of the daily recommended fibre intake, which appeals to moms, says Emma Eriksson, marketing director, snacks.
Although the brand has traditionally focused on adults, it realized consumers weren't able to send the product with children to school. Creative for a new campaign carries this messaging, with TV spots kicking off July 28 in English and French Canada, that show two little boys eating the bars out in nature, before the scene translates into a school setting, promoting the message that the products consumers know are now peanut-free.
The campaign is supported by in-store displays currently rolling out, with back-to-school being a key period when consumers form new habits, says Eriksson.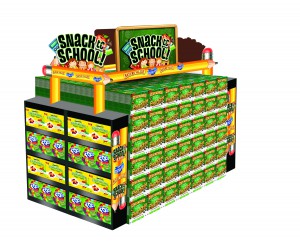 Additionally, the launch will be supported by a national digital banner campaign, online coupons and a PR campaign slated for closer to the back-to-school period.

The overarching Nature Valley brand is also gearing up for a new campaign, which calls on consumers to rediscover nature.

"In all our consumer communication, we'd always had that connection to nature, but we'd never really gone after it as a cause and a higher purpose to what we're trying to do," she says.

Speaking more broadly to adults and particularly those with kids, the target is not just those who appreciate nature, but those whose love might have gone by the wayside – with a TV campaign emphasizing the joy of nature. Working with Tribal Worldwide, the brand will also launch a video on YouTube capturing how it surprised a group of youth from the Boys and Girls Club of West Scarborough with a  field trip outdoors.

The Nature Valley push, which saw support from Cossette on commercial and digital ads, Hunter Straker on packaging and Graham Design on the in-store display, is one of the co's summer activity in three of its priority categories.

General Mills' cereal lineup will see some new contenders step up to the plate, including Multi-Grain Cheerios Plus Ancient Grains, in an effort to reach a new target – "healthful foodies," says Dale Storey, VP, marketing. But Cheerios will also get a new twist that will be positioned as the "official cereal of dadhood," with the launch of Peanut Butter Cheerios.

General Mills is also tapping into the trendiness of protein, launching Edge with Protein, which has the highest level of protein of the ready-to-eat cereals and is targeted at men, a demo Storey says is underserved in the cereal category, in addition to Nature Valley Protein Crunchy Granola. The co is also launching its first organic cereal line in Canada – Cascadian Farm, which has been in the U.S. for 40 years.

Tapping into the growth of Mexican cuisine, General Mills is beefing up its offering with premium products that represent consumers' shift to other proteins. Slated to hit shelves next month, the Canada-exclusive Old El Paso Restaurante line is a more high-end, restaurant-quality offerings, including Chicken Tinga, Steak Carne Asada and Baja Fish. Seeking to produce an authentic product, the brand sent its R&D team to a cooking school in Mexico and brought in chefs from Mexican restaurants such as Toronto's Grand Electric to refine the dishes.

"[The new line] really will allow us to stay at the forefront of the cuisine and to make sure that we're capitalizing on one of the fastest-growing trends in food today and delivering some very authentic Mexican food," says Storey.

In the grain snack category, new contenders Oatmeal Breakfast Squares in flavours blueberry and cinnamon brown sugar enter the breakfast realm under the Nature Valley brand. Containing a significant amount of whole grain, the soft-baked squares can be an on-the-go breakfast alternative, and while aimed at adults, will likely appeal to kids too, says Eriksson. (Although the co wouldn't comment on its competition, this product positions it to take on others such as BelVita Breakfast Biscuits, which are a fairly recent addition to the market).

Additionally, General Mills is extending its weight management reach within the Fibre One line, and launching 90-calorie soft-bake squares in chocolate chip cookie and lemon, the latter of which has seen strong results in the U.S., she says. Fibre One Delights becomes the line's lowest calorie offering, providing a treat for weight watchers that has 20% of the recommended daily fibre intake.

All the new products aside from the Old El Paso line are currently rolling out on shelves.