Remove the chore from in-store
KBS+'s Lyranda Martin Evans on how to make loyal customers out of moms, and the reason stores should serve great coffee.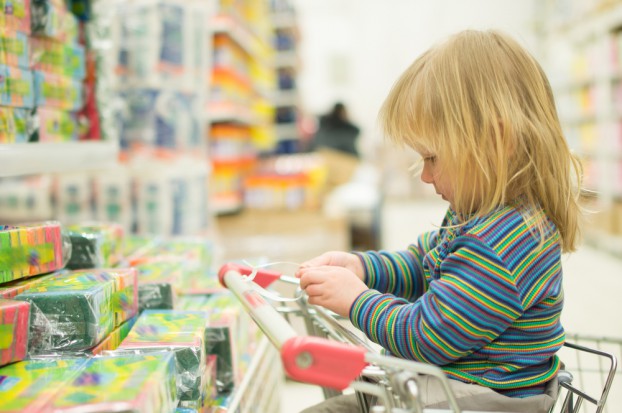 By Lyranda Martin Evans
"If there's one thing I love, it's shopping with my toddler," said no mom ever. That's because shopping with young children is an epic test of patience and a race against time, before they (or you) meltdown in aisle four next to the ice cream. What used to be a pleasurable experience pre-baby is now the universe's friendly reminder to use birth control.
Take the mall, which before motherhood was Mecca. Now it's a crowded cesspool of germs, where shifty-eyed teenagers roam in packs, loud music blares from Hollister, and Wetzel's Pretzels always has a line. But places like Yorkdale do it right, with a large family bathroom, plenty of clean change-tables and a comfortable area for breastfeeding. When I was on mat leave, I went out of my way to shop there, and I have a lovely crying baby photo with Santa to prove it.
Then there's parking. Before I had a kid, I would roll my eyes at those "reserved for parents with young children" signs. Now I get it. The thought of lugging a 20 lbs baby while dragging a reluctant preschooler whose only mission in life is to jump into traffic is enough to make any new parent exclusively online shop. Which we all would, after all, since this is the generation obsessed with e-verything, but sometimes you can't get stuff delivered. The problem is not being home. If you're a working mom, there's only so many times you can have Pampers delivered to reception before the 21-year-old intern stares at you with permanent pity. If you are a full-time mom, there's no way you can block off a three-hour delivery window – you've got a scheduled playdate in French, toddler math yoga and an afternoon at an experiential farm – and that's just Monday.
Make the experience fun for kids. It's easier to convince the kids to go, and the love will last forever. Millennials remember begging to go to Ikea (Momcanwegototheballpit? Momcanwegototheballpit?!) and it's why our homes are all Malm furniture now. Home Depot has carts shaped like racecars, which means parents can say, "Kids, we're going on a super fun adventure to buy shower grout!" Frank the Tank was right, it is a pretty nice little Saturday.
Have helpful staff materialize to carry that heavy, odd-shaped newborn sensory gym that won't fit in the cart. Have price check scanners in the aisles so Mom can decide whether buying her screaming five-year-old another Ninja Turtle has enough ROI. Have a quick and easy return policy so she can impulse buy an on-trend pair of jorts (jeans shorts have a name now?). Serve great coffee. I would mainline the stuff now if I could.
Moms have a lot of spending power, and they have more choice than ever. So if you make your store a thoughtful delight, a chore that feels more like an escape, you'll win with Mom-llennials. They are willing to drive a little further and pay a little more to enjoy the experience – this is the generation obsessed with themselves. They made selfies a thing.
 Lyranda Martin Evans is  a creative director at KBS+. She's also a co-author of the bestselling humour book, Reasons Mommy Drinks (Random House 2013). 

Want more from Martin-Evans? Check out her May piece on making moms pee their pants (in a good way).

Image via Shutterstock.